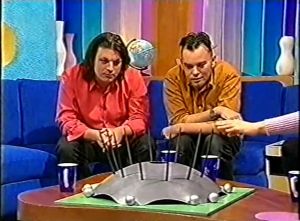 6264/19194
Five years of parenting complete. Why did no one give me a gift? Or a refund of some of the money that this has cost me? I was up early and back late and almost missed seeing the birthday girl entirely, but got home just as she was getting into bed. And that's the kind of parenting that I believe entitles me to a refund.
Someone sent me a link to a 23 year old episode of Light Lunch. which featured Mel and Sue as hosts and Lee and Herring and the Ice Warriors as guests. I only had a very vague memory of this happening. In fact I had not only forgotten meeting the Ice Warriors, I had forgotten that the Ice Warriors were even a thing.
This was 90s daytime disposable TV and the idea that anyone might be watching it in 2020 would certainly not have occurred to us and even now I think it's insane. But it's a little history lesson in haircuts, failed TV shows (I mean who remembers TMWRNJ either and what ever happened to Mel, Sue or that ridiculous haired man?) and 90s adverts if you can be arsed to watch the whole thing.
I find myself almost unwatchable on it, although the second appearance where we answer questions on the phone is a bit less embarrassing. Pretty much all of us are talking in the same self-conscious manner, trying to cover ourselves by taking the piss out of everything. Weirdly Stew is the most relaxed and natural of the four of us. It looks though like someone has given some children their own TV show, which I suppose they had. How I got any work with my annoying voice and face I have no idea. But I was only a couple of years from not getting any (on screen) work, so maybe that explains it.
I was an untameable force though: saying winkie at least twice.
I hate 90s me though. He was a dick. I fear I'll feel the same about all the Mes with 20 years distance. But luckily for 2020 me, I won't live to make that judgement on him (me).