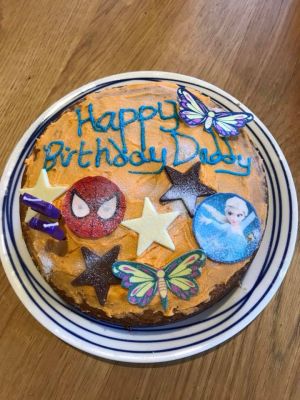 5705/18725
My daughter shouted for me excitedly from the living room this morning. I rushed into the room. The opening titles of Peter Rabbit and Friends was on the telly. "It's your favourite!" she cried. How nice that she was so thoughtful to get me in to see the show. I wonder if she thinks that when we're playing Peter Rabbit (I am Farmer Gregor - the Mc is silent according to Phoebe- who sits down guarding his vegetables - she is Peter Rabbit who steals them and puts them in his backpack) she is doing it for my benefit.
But even though Peter Rabbit is not actually my favourite TV show (it's in the top 5 maybe) it's nice that she thought of me.
I thought it was coming home. I was trying to work out how I was going to explain to football that I'd turned its old bedroom into my computer room.
I couldn't believe that England were going to earn a place in the World Cup Final before I'd even turned 51.
But alas it was not to be. And we didn't quite deserve it. But a bold attempt and that tantalising hope was there for three quarters of the game. What a run, what a team and what a manager. Let's be more like Gareth Southgate and less like Boris Johnson.
But England broke the Richard Herring managerial advice. Don't get ahead too early because it gives the other team time to catch up. And if you do go ahead, make sure you then score a second goal, so it doesn't matter if the others score one goal.
Southgate is OK, but he doesn't seem to have grasped this properly. Whereas Croatia played a partial Richard Herring manoeuvre (let the other team get ahead and then score at the end, which is all that counts).
My wife watched the World Cup for the first time tonight. She liked the way that you could do other stuff and then just judge when to look up to watch by the relative excitement of the "narrator".
I liked the idea of football matches having a narrator rather than a commentator, preferably Morgan Freeman. He could put the dramatic irony in context. When England fans were all happy in the first half, he could have said, "Of course what they didn't know was that Croatia equalise in the second half. How different their faces will be then." It might take away some of the anxiety to have an all-knowing and all-seeing entity pointing up the drama. But as someone pointed out, what if it is an unreliable narrator?
My wife and daughter made me a birthday cake for tomorrow, which Phoebe decorated with edible stickers of butterflies, Elsa and Spider-Man, which she correctly ascertained are my three favourite things. She is 28 years old.
No Peter Rabbit though. Even though she knows that is my favourite. Almost like she decorated the cake with her own favourites.
She was rightly very proud of her efforts. Catie had managed to drop one half of the cake as she got it out of the oven and it had broken in two, but I enjoyed the slapstick and they were able to fix it, so I had the pleasure of an unfortunate accident after loads of hard work and the knowledge that I still get a cake. She took my laughter very well, but if I had my way then every birthday cake I got would end up smashed on the floor or pushed into someone's face. So this was the perfect gift.
As of tomorrow I am only 9 years away from Oh Shit I'm 60 (if God be willing). That first year of my fifties went very fast.