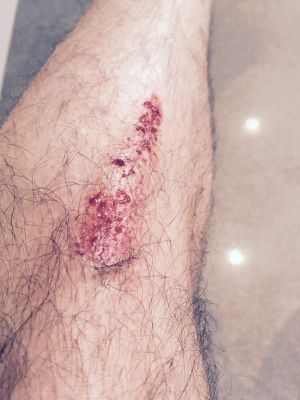 4450/17369
My wife is the luckiest women in the world. Not only does she get to marry me and have my child, but also every morning I make her breakfast in bed. Yes she gets my special porridge every morning. It's not a euphemism. I make excellent porridge.
It takes me a while to get breakfast together. I make two pans of porridge (one with full milk for my wife, I prefer skimmed milk - we're like Jack Sprat and his wife: Jack Sprat liked his porridge low fat, his wife liked porridge with cream, though to be honest it didn't bother them too much if there was only one kind of milk, it's still porridge), add fruit, nuts and seeds to the oaty mixture (again no euphemisms) and also a cup of tea for my wife, a cappuccino for myself (I have new glasses to replace the smashed ones), two beroccas, two strawberry low fat actimels and a couple of pints or water. I then carry it upstairs on a tray.
I am pretty happy with the first 30 minutes of my day, I have it down to a fine art. I also clean the cats' bowls, feed them and empty and refill the dishwasher as I am doing all this. I wish the rest of my day ran with such clockwork.
Today I got all that done and then carried the tray up the stairs. I was wearing my big fluffy slippers, that occasionally live up to their name and can be a bit slippy and obviously had my hands full. On about the seventh step (judging from my CSI skills of berocca and coffee splatter) I somehow lost my footing. It was hard to keep my balance as I was holding a tray of liquids and stodgy solids and I didn't want to drop any of it. But of course that juggling act made me lose my balance further. I am now sure exactly what happened but have scattershot memories of sliding backwards, feeling warm tea and coffee and porridge and cold water hitting my head. I found myself in a heap at the bottom of the stairs- the breakfast I had slaved over splattered all over the walls and carpet and my face and dressing gown, a pain in my foot and shins and one smashed plate (remarkably the bowls glasses and even the cappuccino cup had been saved. If I was five years older then I might have been in danger of breaking a hip here, but it was mainly my dignity that had been hurt, although I had impressive carpet burns and porridge in my hair, so it looked like I'd had a interesting night. It was the most ridiculous piece of slapstick and I felt like the clumsy chef from Sesame Street. I had failed to climb some stairs and then fallen and tipped two breakfasts over myself. If only I had filmed it then that would have been a shoe-in for You've Been Framed. I could have bought breakfast for a year with my £250.
I lay amongst the disaster zone, mainly cursing the fact that I had wasted all the time and food. My wife had heard the noise and I think it sounded more catastrophic then it really was. She came downstairs to find me groaning and prone. Imagine if this had killed me. The perfect death for a comedian, covered in porridge and alone
I made breakfast again, feeling annoyed with myself. I must have brought my wife breakfast in bed about 1000 times now and I've always managed to stay on my feet. I tweeted a picture of my carpet burn, so after last week's nipple shot I am beginning to feel like I am one of those magazines where you build a model of something over a series of months. Next week a picture of my big toe and a bonus elbow. 99p for the first issue, but £8.99 after that.
I had a bath and tried to build up to be brave enough to lower my wound into the water. I did it after about five minutes. I didn't even hardly cry.
It was a big moment of drama to start the day and another addition to my slapstick sitcom life. If Catie had chosen this moment to go into labour then it would have been perfect.
I love the taste of porridge, but when you pour it all over yourself it smells a bit like the flour glue you used to make when you were a kid (and that I bathed in the last time I got coated in unguents like this). The smell was in my nostrils all day. Or maybe some porridge had just gone up there.
I am much funnier on my own in real life than I can ever hope to be on stage.