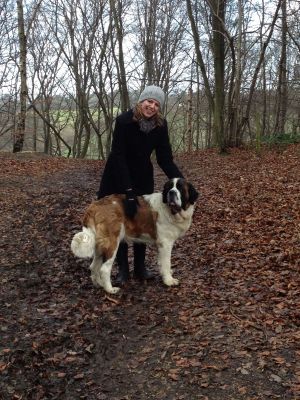 4051
It felt like Boxing Day today, an illusion created by a double Christmas Day and as is only correct on Boxing Day (real or imagined) a bracing walk was called for. My father-in-law took us on a brisk jaunt through muddy meadows, a wood, up a steep hill and through a field of horses. I was a little bit hungover and hadn't slept enough, but although lunchtime was approaching and despite not having had any breakfast I was still not hungry, which shows how much I must have got through yesterday. My diet starts today and so although the others had Guinness at the pub at the halfway point I had a pint of lime and soda.
My wife would love to have a dog, something which isn't really practical where we are living at the moment, so she was trying to persuade her dad to get one. It did feel like this was the perfect time to have a canine chum running alongside us. The family have had dogs before, but he's not a stupid man and he realises that he'd be the one who had to walk it all year round and he questioned whether it would be worth that effort to make the (not quite) Boxing Day walk feel festive. This got us into a discussion as to whether their was a business in renting out dogs to families for the Yuletide season, with my father-in-law suggesting the perfect name, "A Dog IS Just For Christmas". I suggested that you could maybe combine this with a dog kennel business. People with dogs who were going away for Christmas could leave their pets with you, but you could then rent the dogs out to other dogless families for a few days. Thus you would get paid twice and not actually have to spend anything on kennels or food or dogwalking - it would all be done for you, by the chumps who wanted a dog just for Christmas. I think you'd have to keep it all secret from the people who thought you were a kennel service, but from their point of view their dog would come back having been fed and sheltered and loved and would actually have had the freedom to enjoy Christmas time. Morally it is dubious to lie, but it would actually be more like a holiday for the dog rather than being sent to Christmas prison. The danger is that the dog might prefer the new family, but ultimately they are not committed enough to animals to have a pet all the year round, so he'd be better off with his original owners.
I am taking this to Dragon's Den. For a small amount of admin you get double-bubble for essentially doing nothing.
And God sent a sign that "A Dog IS Just For Christmas" was my destiny and that I should give up comedy and blogging, because as we got to the top of the steep hill that I had struggled to climb what should be waiting at the top but a friendly and apparently ownerless St Bernard. It didn't have a keg of brandy round its neck (or an additional keg of lime and soda for temporary abstainers), but it came up to us to say hello and seemed keen to hang around with us. And it's finders keepers, right? So we could have taken it home until the end of the Christmas break and then come back and dumped it where we'd found it.
We looked around for the humans who owned this fine beast, though didn't really see anyone. But there were voices in the distance on some private land and the dog was standing its ground, so we left it there for now. It was still a (nearly) Christmas miracle though. My wife had wanted a dog and she had been granted her wish. If I'd known Christmas wishes were being answered though I would have told her to ask for our mortgage to be paid off. But at least she got to have a dog. For about 120 seconds. So we're all really happy.