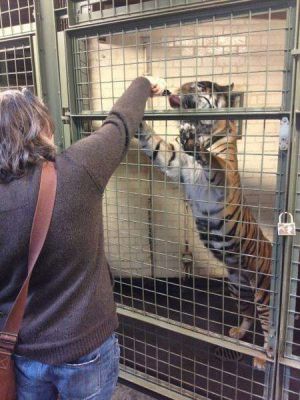 Next month I am appearing on a great bill at the Hammersmith Apollo
for London Zoo's "Roar With Laughter" Benefit
. It's all for the benefit of tigers, which is no doubt why Lucy Porter is on the bill as on by Edinburgh podcast she admitted (without any kind of prompting from me) that she had an erotic interest in the animal - the pervert.
And today I was invited down to the zoo to meet their Sumatran tigers and to give them their lunch, which was a bit of intimidating prospect. Given that I once hid behind my 12 year old niece when I was being charged by a goat, I needed some kind of shield in case of danger. None of my siblings' children were available so I took my wife. She looks a lot more delicious and less sinewy than me, although I am somewhat plumper. But I reckon if I hid behind her that I could throw her into the tiger's jaws and hopefully make good my escape as it was trying to spit her out.
She knew what she was getting into when I married her. She vowed to "love, honour, obey and act as a shield/food source during any attack from vicious or slightly vicious animal or goat". And that was a holy vow made in front of God and my dad (two separate entities - or are they?).
Anyway after watching the tigers prowling around in their enclosure looking pretty damned scary we got to go behind the scenes to their out of the public view lair and to stand inches away from them. Luckily there were some bars to protect us from their claws and teeth, but we were still warned not to stand in front of a yellow line. We'd be feeding the tigers with tongs, but again it was made clear that our fingers should be quite a few centimetres away from the meat. The tigers both looked rather placid and friendly and it was very tempting to reach through the bars and stroke them (or to push my wife up against the bars for a kind of a joke in a pushing her into a pond kind of a way) but I somehow resisted the temptation. We fed the tigers some horse meat and they gratefully grabbed it from the end of the tongs and didn't make a grab for any human meat. Surely we now had their trust and we could head into the enclosure with them and play? The keeper said not.
It was quite exhilarating and a little bit scary but a great thing to experience (I think you might be able to do the same if you pay to be a keeper for the day). And I didn't even have to sacrifice my wife to enjoy it. And even more importantly I left the enclosure with all the appendages that I had come in with, even though my fingers had been about 20cms from a tiger's mouth. Woo-eee.
We had a little walk around the zoo, particularly enjoying the new penguin beach where you can watch the stupid birds leaping out of the water and diving underneath it (the pool has glass walls). I also insisted that we take quite a long detour to go and see the okapis. Their hind quarters are as good as I remembered, but what I had forgotten or maybe failed to notice as their amazingly long and dextrous tongues. There's something wonderful at both ends for the discerning zooaphile. If I had to have sex with an animal... if I HAD to. Luckily I wasn't going to be feeding the Okapis today so the temptation was out of reach even of the most probing Okapi tongue, but if I bide my time and help raise enough money for the zoo who knows what might happen?