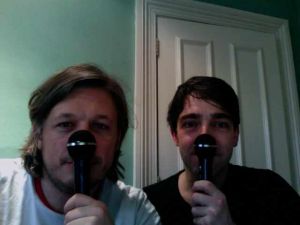 Days without alcohol 33.
I had a lovely afternoon messing around with my old mucker,
Andrew Collings
. As regular readers will know I used to do the paper review on his 6Music show on a Sunday (and latterly on a Saturday), but that all came to an end back in
March last year
.
Ever since we've been threatening to get together to do a podcast together, just for the fun of it (not that there was much money in 6Music anyway). Finally today we got round to it and the Mark Steel faced broadcaster rocked up at my house at about 1.30pm with some special microphones and connecting jacks that he had bought especially. I had been out and bought the papers earlier, but only had a cursory glance through a couple of them. The beauty of the old shows was the spontaneity and I did not want to over prepare!
We were using my Robert Webb approved MacBook Pro to record the podcast which we understood we could do via the Garageband application. Neither of us are massively technically minded, but Collings set to work, connecting up the various bits and pieces. It was all very impressive. Until he tried to speak into the microphones. Neither of them were registering. Was it all going to fall apart before it began?
Much detaching and reattaching followed, but to no avail, so we had to try using the internal microphone on my laptop, which we understood was there somewhere, though neither of us could work out where it was located. However it worked very well. Collings had wasted his time and his money on all that stuff. Ha ha ha! It makes me happy to think of him squandering his resources. The idiot.
So we had a quick flick through the papers and Andrew wrote out a tentative running order on a piece of paper and then we went for it. It was fun (for us at least) and although we were a little out of practice it was an interesting chat and by the end I think we're really getting into our stride. My favourite bit was Andrew's reason for hoping that Chris Langham was not listening.
Then we had the problem of trying to get the thing onto the internet so the half-dozens of people who would want to hear it, could get it into their ears.
We did quite well and managed to save the relevant file. We were then supposed to email it to Mark at the British Comedy Guide who was going to host it for us. But the file proved much too big to email. I would have been lost, but Andrew managed to work out a way of using the magic of apple to create a webpage to host it. We had to sign up for a 60 day free trial to get the relevant web space but still we were struggling to work out how to get it on line. We were apparently signed in under an old name that had expired, so we eventually sorted that, but then when we went to publish nothing much seemed to be happening. After twenty or so minutes Andrew was ready to try the whole process again, but a warning message said we would lose work if we did this while a transfer was in process. He wanted to press quit, but I persuaded him to wait, which was lucky (and my only real contribution to the process) as about three minutes later the message came through that our web page was up.
So we'd done it. Though after a small bit of publicity the site
couldn't cope with demand
, but luckily by this point, Mark, using his proper expertise had managed to
get it on to his site
. I have also tried to get it up on iTunes, though as yet I don't think it's on there yet as someone has to check the content. But still it feels good to have done it and it's exciting to know people are already listening to it. Go and have a shufty and let us know what you think. I think Andrew and I are mainly pleased that we got through the technical part of the day and so the actual content is unimportant, but if you have 43 minutes to spare then there are worse things you could be downloading off the internet. Right, Chris?
We're booked in to do another one in two weeks time, though we will have to work out how to get over today's problems, as I guess we won't be getting back on to that poxy apple site with its limited access. I wish I had listened to David Mitchell.