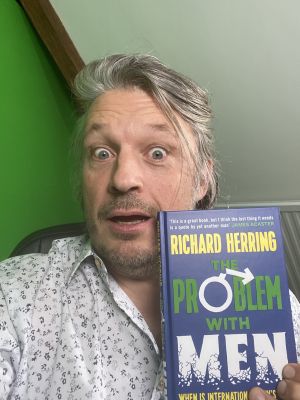 6542/19462
I was starting to wonder if the whole of the deal with The Problem With Men had been a Jeremy Beadle style prank. Had Jeremy faked his own death, disguised himself as a female editor, brought me in for a meeting, given me a deal, let me write a book, do an edit on it and record the audio book only to then reveal the whole thing had been an hilarious joke. I wouldn't put it past him.
But today a box of 20 books turned up at my house and whilst part of me thinks that maybe Jeremy has just gone that extra mile to trick me, I am pretty sure it's the real deal now. Though I wouldn't put it past Jeremy to print up thousands of copies and put them in the shops and sell them to unsuspecting punters, thus pranking thousands (all right tens) of other people too.
Anyway assuming it's for real, I have now held my book in my grubby little hands. Thanks to the elves who somehow managed to write this for me in a year where my brain was fugged up with all the other shit that was going on. I hope they did a good job. I haven't read it yet.
It's out on 5th November. If you buy it they might let me do another one. Get it wherever you get your books.
This is just an example.
It's currently number 3 in the charts for audiobook parodies and it's not even a parody. That's how good it is.
Before the RHLSTP record I headed up to the stocean for a dog walk and was greeted by the distant sound of humming machines and strange lights playing across the sky in the distance. After the haunting of yesterday it seemed I was now experiencing a close encounter. The alien crafts were either stealing the stones or the beets or both. I captured them on film and they are part of this week's live stone clear -
watch here.
A lot of fun tonight chatting to current Taskmaster champion (but who fhall fteal hif crown?) Ed Gamble for RHLSTP #301, which I neglected to inform him was actually the first show in series 20. That's right, we're been recommissioned. Can nothing stop the RHLSTP juggernaut? Some fun chat, mainly about wanking as you'd expect from this pairing and time flew by.
Watch it here
or wait for the podcast. And remember that in November I will be giving all my Twitch and badge money to Movember, so give me your next free Amazon prime sub and if you want to give me actual money for growing a moustache then
you can do it directly here
.
Return of one of the all time great RHLSTP guests
John Kearns.
Get ep 300
with me as guest and John Robins asking qs + 30 mins bonus material
All proceeds to Refuge Charity