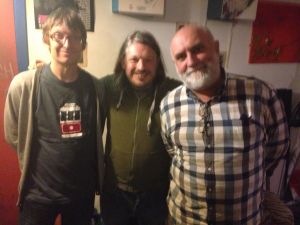 The Fringe is drawing to a close with 7 more podcasts and 6 more stand up shows and then it's home time! And then it's holiday time!
It has whizzed by this year and I haven't got ill or unduly depressed and only occasionally tired. The numbers are definitely up for the podcast (it seems to be more or less selling out every day) and I am assured the stand up show is selling better too (though it's only been full about four times and tonight dipped down to about 140). It's in marked contrast to last year where I was ill, tired and fucked off with my venue and the Fringe never seemed to end. This time I can't believe there's so little time left. I have done little in the way of socialising, which probably explains the fitness and quickness.
Doing a daily podcast is a slog, but it's one that I am enjoying much more this time round. I have had some spectacular guests and I don't think there's been a really duff show yet (which is pretty amazing given I am doing 25 hours of stuff in just 27 days). Today was a joy, with one of my comedy heroes Alexei Sayle as the guest. And it coincided with a day where my brain was sharp and I was in control and I was relaxed enough to get good stuff out of this fascinating and confident man. Really proud of this one (especially given the fact that it's the 18th one I've done in three weeks). Have a listen. Some great names coming up, including Baconface, Paul "Curious Orange" Putner, Jason Manford, Ed Byrne, Rob Delaney, Mark Thomas and more. All the details are here. Come along if you can. Or if you want to pay for this free entertainment (and get something else at the same time) then buy something (of mine ideally) from www.gofasterstripe.com or buy a T-shirt, hoodie or mug from this website (though we'll be adding new designs soon). As always your financial support will help us to fund other even more exciting projects in the future.
After my own show I went downstairs to see Brett Goldstein's "Scenes of an Adult Nature". I see Brett in the dressing room every night as I come out of my show and he prepares for his. Luckily I thought his show was great or it might have been an embarrassing last week as I tried to avoid eye contact with him! It's got some interesting stuff to say about the effects of porn. He mentions this really interesting Ted Talk about how internet porn can rewire the brain. Luckily this will never affect me as I have never seen any porn. Also luckily, if I had seen some, as an older man any erectile problems would sort themselves out quicker than for you young uns (watch the video). But like I say it won't affect me because I don't use porn. Mmmmm porn.
Sorry, had to go off and do ... a thing.
Brett's show wasn't just about porn though, but about attitudes to sex and what is acceptable and not acceptable. It was actually quite coy in places, not at all laddy, in fact quite the opposite. Even as a recovering porn addict Brett seems to be a sweet and thoughtful man in real life (unless he's just pretending to be like that to get some tail - nice tactic) and this is a show for men and women. It's nicely constructed with some great callbacks and leaves plenty of stuff to think about (my wife and I discussed the issues all the way home). Go and see it if you get the chance. My favourite thing was the interaction with Dave, the only person sitting in the front row, which Brett handled nicely, but Dave was entertaining too. Don't think he's there every night unfortunately.
Just a week to go now kids!