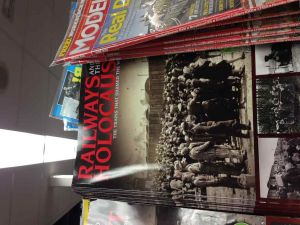 Glasgow Airport is well guarded. I saw four police officers with machine guns before I'd even got through the door, but they may just be there to protect any terrorists from attacks from Glaswegians.
In WH Smith in the airport I spotted a new magazine called "Railways and the Holocaust". That sounds like quite a niche demographic to aim at readers interested in either railways or the Holocaust, but I guess if you were interested in just one of those things then you could just skip the articles that didn't interest you. It must be quite hard for the publishers to keep the magazine balanced. I am hoping they will bring out a magazine dedicated to speed boats and the civil war in Rwanda next. I would buy that.
Even if, as seems even more likely, this is a magazine dedicated solely to the railways used during the Holocaust (surely then the mag would be called "Railways of the Holocaust" or "Holocaust Railways") that would seem like an even more specific and unlikely thing to write a magazine about. The only thing that interests me about the Holocaust is the bit about how they got the enemies of the Nazi Regime to the camps and what rolling stock was used. It's a deeply odd magazine in every sense. The sub-heading, "The trains that shamed the world" is also pretty odd, as if the whole situation was the fault of the method of transport used, rather than the people who instigated the whole thing. Like those trains have let down all other trains by agreeing to take part in all of this. The Nazi guards and the men driving the trains can hardly be blamed. They were innocent passengers on trains intent on genocide. It's like America deciding to execute the bicycle that Lee Harvey Oswald rode to the book depository. How could the bike have transported Oswald from his house to the place where he would kill the president? It must have known. Send it to the gas chamber. And then send whatever transport transported the bike to the gas chamber to the gas chamber too. I hope those Holocaust trains were made an example of.
There were a group of Glaswegian men sitting behind me on the plane on the first leg of a trip to Las Vegas, probably for a stag night. During the flight one of them nudged me on the shoulder and said, "Are you Charles?" I told him I was not. "Or Charley?"
It was unlikely that I would have been so pedantic as to deny the former and admit the latter, but I confirmed I wasn't."
"You're not Ewan McGregor's pal then?" Surely after being on the international news (the clip from the podcast has been shown as far afield as Australia) I should no longer have to put up with this misindentification? Why couldn't they have been like me when I thought I was sitting next to Cerys Matthews, just a bit shifty and occasionally looking sideways to see if I was right (I did also try to use the front camera on my phone to get a better view, which I realised immediately was a bit creepy, so I stopped). One of the men had bet his friend $50 that I was Charley Boorman and was annoyed that I was denying the fact. He offered me $25 to say that I was, but I cannot tell a lie. For the rest of the flight he called me Charley and accused me of pretending I wasn't. I pointed out that Boorman is over six feet tall, but it was no use.
It's not a good start to his trip to have lost a bet before he's even out of the country.
I got the sad news tonight that my grandma, Doris has died, aged 102. If you've seen "What Is Love, Anyway?" you'll know a little bit about her and her magnetic attraction for glitter. She was a remarkable woman and I had begun to believe she was indestructible, as she's confounded doctors' expectations many times in the last few years and carried on living when they thought she would die. Even in this last illness she's lasted about a month more than anyone expected her to. And though she's hardly been herself for the last few years and though I knew this surely had to come I was still very sad to know that this amazing woman is gone. She's the last of her generation in our family and I am now a grand-orphan.
I will miss you Doris. I lu-uh-uh-uh-uh-uhve you.