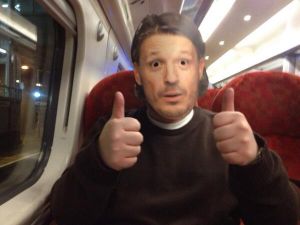 4114/17033
I walked into Cheddar town centre to pay in my charity money, noting all the changes and thinking, as usual about the things that happened in this village back in the 1980s. Houses have sprung up in the unlikeliest of places. The bits of wasteland and meadows that I used to pass through on my way to school have been replaced by houses. Why has the whole town not been left as it was as a memorial to me? Do these people have no respect. I thought for a second that the small Baptist or Methodist graveyard that I used to pass daily and where once my friends and me stole some little green decorative stones from a grave (I thought I was going to Hell for that) had also been covered by new homes. It's not quite a Native American curse to live on top of dead Methodists, but it wouldn't be nice. But as I rounded the corner I saw that the homes had been built around the graveyard. So the inhabitants have a nice view of where one day they might end up.
One of the first tremors of the realisation of my own mortality happened in the graveyard when I was about 9. I saw the grave of a child that had died at just six months old (and I think in 1967, the year I was born). How could that have happened? How could life be so unfair? Why would God take someone so young, before they had done anything? There is no God. Life has no meaning. Hold on, oh shit, forget that dead baby, this means I could die at any time. Nooooo.
Thank God I don't live right next door to a graveyard. I contemplate my mortality enough as it is already.
I tried to prolong my pointless life by going for a run around the reservoir. The wind was blowing freezing cold rain into my face. It wasn't very nice. I will probably catch a chill and die. I had been planning to go round twice, but fuck that.
Tonight I was gigging in Wolverhampton, a city that I have randomly decided that I must conquer comedically. It's basically because it has such a clear structure of progression of success, all, more or less in the same building. A few years back I played a 100 seater room above a pub, then I moved up to the bar of the main theatre, then into the bigger 300+ Wulfren Hall (which I had done a Talking Cock gig in back in 2003). There are a couple of bigger rooms than that including the 1500 seater main venue. I had used the impressive dressing room for that when I had performed in the bar and vowed that one day I would come back here in my own right, playing the proper venue. Was there a jacuzzi in it? Or am I making that up? I don't want to go back and check in my blog. It will spoil the magic. BUt I failed to sell well enough in the vast and echoey Wulfrum Hall so was relegated back down to the Slade Room, with 150 seats in it. I've been here for the last three years I think, though last year I was some way off filling it (though was that because it was snowing, let's say it was). The graph was heading in the wrong direction. It looked like my dream was over.
I like the fact that I have chosen Wolverhampton for this dream. It's usually one of my lowest selling gigs, but the audience I get are always clever and lovely and the staff are properly friendly and supportive. I think it's mainly a joke. I know the chances of me finding 1000 people to come and see me here are pretty slim. Even if I was on telly. But it's good to dream. And if I can keep going for another 20 years then who knows what might happen.
Tonight, at least, I turned the tide back in my favour. I sold the room out. 150 down, only maybe 1350 to go.
Or maybe I should just stick with these 150. They were a properly great audience and after the somewhat reserved Cheddar audience it was great to be getting some big laughs. Most of them seemed to queue up to meet me afterwards. Sometimes it's quality rather than quantity that matters. Someone had anonymously sent me a mask of my own face, which is a slightly sinister gesture and I pretended that it was a new line of merchandise. Maybe I should. If I could send out 150 people with my face into Wolverhampton surely it would create a stir. Instead I gave it away to the first lad who asked for it. Hopefully he will use it for good, rather than for committing crimes in my name. At least it's unlikely that anyone in the area will know who I am.
I hope the size of that guy's hands would give him away as an imposter. Hermione would look like an idiot with those at the end of her arms.

Over 2000 people have now viewed the free episode 1 of RHMOL (plus over 400 have watched it on Youtube) and the series pass is selling steadily. It's also topping the iTunes chart (with RHLSTP also back in the top 10). Thanks very much for your support for this project. We're probably about a quarter of the way to recouping our money. There is also a secret channel set up for people who are pledging to give a pound or more a month to fund future projects. We'll stick up all kinds of extras and surprises on here, plus we're planning to send out various rewards every few months (we can't do them straight away as people could sign up for a pound and then cancel their payment for future months). Around about 200 of you have made this commitment already and I am really grateful for that and will make sure you get your money's worth. But I will need at least ten times that many people if we are to start making montly AIOTMs. So please consider donating a pound a month or more (if you can afford it). One off payments are great too and I think we'll make the secret channel available for a year to anyone who makes a one-off donation of £12 or more.
It's not yet clear if this bold venture will work out for us, but given we're only really a couple of days into this it's going very well. As always, if you can't pay or won't pay then simply spreading the news of the free versions of RHMOL on video and audio would be an enormous help to us. There's no PR budget or advertising campaign behind this show, so we're relying on word of mouth. If you think it's good and would like to see more, then just telling as many people about it as possible will be a massive boost for our chances of success.