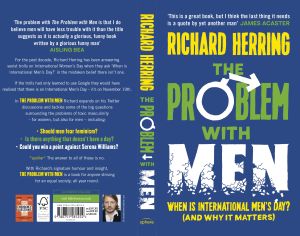 6511/19431

Sneak peak at the full cover for the new book
Or support your local book shop and preorder there.

I love my children, like most of the other parents in the world and it's super fun having them around, especially when my son pulls down his pants, bends over and moons me for a full minute. But fuck me, I don't think anything they do makes me happier than them going away for 24 hours. If it was much longer than that then it would start to make me sad again (and even three hours in I was missing them) but the elation that followed their grandparents coming and taking them away for a sleepover, including the information that they'd be returning them at 6pm on Saturday. If you think taking drugs gives you a high, try having kids for 5 and a half year and then finding out you're getting rid of them for 26 hours. That's the greatest high and the coolest drug and you're just too lame and uncool to take it. Oh you want a drug that kicks in in about half an hour or less do you? You pussy. Try some of the hard stuff.
Plus it's an even better high if you've also spent most of the year in lockdown and not been out, so that going to the cinema and a restaurant feels like winning the World Cup after scoring a hatrick.
We went to see Bill and Ted Face the Music (after having watched both the old films in the last week) - once again the cinema was practically empty. People are not returning in anything like droves, barely in dribs. I don't think you'd even call it a drab. But this is perfect for me. When Friday night at the cinema is the same as going on a Tuesday afternoon - what's better than having a cinema practically to yourself - only having it totally to yourself.
I am also a fan of the fact that all gents' toilets now have every other urinal out of action. I have always been a shy pee-er, though have got slightly better after following the advice in the brilliant book/show Talking Cock (you'll have to buy it to find out what that is), but I still live in fear of being shoulder to shoulder with another passing dude and the inevitable stage fright that follows.
So to know that, for sure, I have a space either side of me (and actually thanks to Covid, I can be in a cinema on Friday night and be pretty certain that no one will even come into the toilet for the next five minutes), it's like a dream come true for a shy-bladdered, misanthropist like me. Plus there's a deadly disease around, reducing the population and thus cutting down the possible number of unwanted social interactions I might have. People say 2020 has been a bad year. I say, but look at the positives.
I didn't massively enjoy the film, though there were lots of funny bits and as my wife pointed out, it did keep up the standard of nonsense from the old ones. I guess that for me it didn't quite dig deep enough into its own tragedy, (though it did it a bit) of two middle aged men attempting to capture their youth (but just not the characters, the actors too). I guess it made me feel like fans of Lee and Herring must feel watching Ally and Herring.
Maybe it wasn't silly enough. Maybe it wasn't depressing enough. I don't know. It was a risk bringing it back and it's not a total failure by any means. Maybe the fault is within me. My wife loved it. Overall I am glad that they did it. And you know Keanu Reeves doesn't have to and he's still super funny.
Ah man, you'll like it. Go and see it.
The meal was great too and made better not just by the fact that it's only maybe our third night out as a couple this year (or since March at least) but in the knowledge that it might be one of the last ones for a few more months. It's not a bad thing to be reminded of how much we have taken for granted, but fucking Hell I hope we can get through this shit quite soon. The virus of my kids is going to take longer to shake off.
Been reading an advanced copy of Michael Ian Black's book
"A Better Man"
and it's really good. If you buy only one book this year about the crisis men find themselves in, then obviously buy mine. But if you are going to buy two, get this one as well (as it's actually much cleverer and better than mine). And tune into RHLSTP on Wednesday when I am sure we will talk about it a good deal