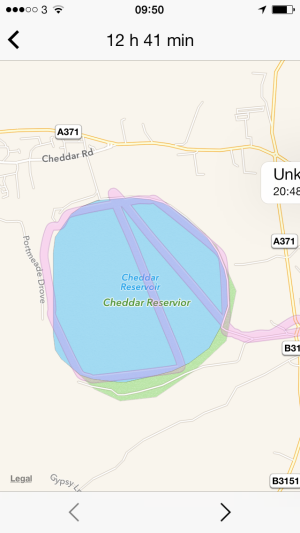 4049
After a hearty Christmas breakfast at my sister's house (because we were likely to not get too much to eat today) my wife and I went for a calorie burning run around the reservoir. I thought we might have the place to ourselves on Christmas morning, but there was one other runner, some dog walking families and a couple of lone fishermen. The sky was blue and the sun shone weakly, but its rays could not cut through the crisp coldness. I enjoyed the run immensely and was looking forward to checking out my Moves app to see how far we'd gone and how many extra Quality Street I could now stuff into my greedy face. We ran for 45 minutes and went quite slowly so I was surprised to see that the technology thought we'd done just over 5 miles. But when I checked I saw that according to the map we'd taken an unexpected diversion just a few metres after we'd got to the reservoir and run across the water and then back again. I am not saying that I am Jesus, but this Christmas Day miracle might make others suggest it and the proof is there for all to see.
I was hoping that my family would get up to their usual shennanighans and provide me with enough comedy routines to get me through 2014, but it was a relatively quiet and accident free Christmas Day. The flaming Christmas pudding went out on the way between the kitchen and the dining room and my parents attempted to relight it at the table using long matches. It looked like the perfect recipe for disaster and death, but on the third attempt and with a lot of flaming brandy the pudding lit and didn't set fire to anything else.
We looked back as well as forwards and of course we lost my Grandma Doris this year. And though it's been a few years since she'd been well enough to join us for Christmas dinner (sadly I don't recall when she was with us on this day for the last time, but it's been a fair few years), it was sad to think she'd gone. And then with a start I realised that this was the first Christmas in 102 years that Doris hadn't been around. That's pretty mind blowing. It's pretty mind-blowing that I've been here for 47 Christmasses, but the world was a less cool place with no Doris after all this time.
Just before dinner we had watched The Snowman. We'd been surprised to see it with its original opening (which I guess they don't show every time as none of the younger family members have seen it before) with David Bowie walking through an attic and remembering the time that he met the Snowman who gave him a scarf. Which does add a different dimension to the whole thing, if the boy in the cartoon is the young Bowie, possibly explaining the crazy life he went on to lead.
My nephew Michael used to love this cartoon when he was a kid and make us watch it over and over again. He is now nearly 30 and seemed less keen to witness the whole thing immediately. He also didn't remember to shout out "SPLASH" when the whale's tail hit the sea. How could he forget?
Happy Christmas readers!