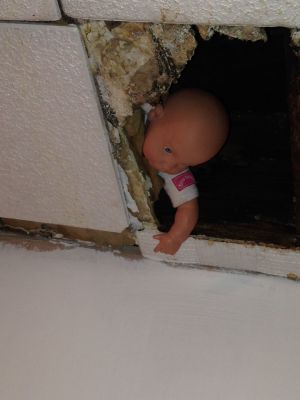 4039
I walked over to Chiswick in the rain for another preview of material for Meaning of Life at the Tabard. I haven't done much work on the second one, but with a mixture of blogs and a bit of ancient and obscure material (the thing that went down best tonight was a sketch that I wrote when I was 19) I managed over 30 minutes of stuff about the Paranormal and also did a couple of newish stand up routines (and a few old bits). I felt relaxed and really enjoyed the intimate space and working out what was going to work. Sometimes I hanker for recognition and wish that I could be playing the Hammersmith Apollo, but tonight playing a tiny local theatre to 60 people felt like the best gig possible. As long as I have some outlet to perform I am happy, it seems. A walk, an hour's show and another walk and home into for Homeland - that's quite a sweet life.
The dressing room I was in had just been left by the cast of "A Christmas Carol". Their costumes and props taking up most of my space. I noticed that one of the cast seemed to have their own spotlight photo attached to the mirror - two pictures showing his diversity, one happy, one sad - which is always useful when trying to convince a casting director to employ you. "I can do two emotions, look!" But why was it on his mirror? Was it there for reference so that he knew what he was supposed to look like? Or if he didn't like what he saw in the mirror could he pretend that the picture was his reflection, covering up one image dependant on his mood? Or did he just like his own face so much that one mirror image was not enough? Perhaps it gave him a chance to prove his diversity further (to himself) by pulling a third expression. Actors are a strange breed. There is no way of knowing why he did this (and of course the picture might have been put there by a friend or lover to look at, not the man himself - but it wasn't).

It was only after I'd spent half an hour in that dressing room, done the show and was back getting ready to leave that I looked up and saw something that (presumably) had been there all along. There was a tile missing from the ceiling, presumably smashed out as bits of debris remained where it had once been and peeking through the gap, with an arm reaching downwards was a doll. It stared down with its unblinking eyes, benign, yet threatening. How had it got there? What was it going to do next? Had it just punched through the tile and was about to descend and attack me? I didn't hang around long enough to find out. It was, I hope, an excellent gag. Just on the periphery enough to go unnoticed and then just perfectly terrifying enough to make you jump (or laugh) when you spotted it. If the happy/sad actor had put that up then I could forgive him his vanity.

And the award for best acceptance speech goes to Jerry Seinfeld. This speech (from 2007 - I am working my way through the internet in chronological order) is pretty much perfect, in that it manages to tell the truth about how vapid and ridiculous awards are, whilst still being ultimately a gracious acceptance of one. It's rude and charming all at once. And just the kind of thing I had always dreamed of doing (though I would have come across as angry and bitter and not funny) if I was ever in the position to have accepted a comedy award. Great stuff from a comedic master.