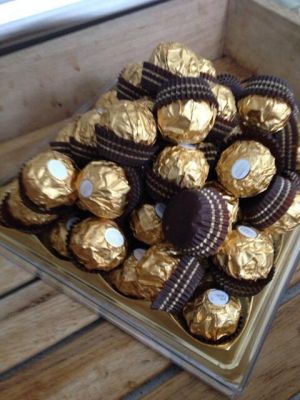 4100/17019
As well as getting breakfast in bed (which is not just a Valentine's treat, but one of the services I offer to people willing to sleep with me) my wife also got enough Ferrero Rochers this morning to create a make-shift pyramid shape. The deal was never that I would make the pyramid myself, so I didn't have to make it look pretty. But using one box of 25 chocolates as a base I was able to pile up the other 39 into a haphazard structure. Plus I put one of the extras on top of my wife's porridge. It's all good fun for now, but will my wife be smiling when the bedroom is so full of chocolates that she is crushed beneath them? Probably not, thinking about it. Stupid question.
God was clearly pretty pissed off about something today (I can only assume He hates love) as He had sent some nasty winds along to let us know about His unspecified grievance. We braved them to go to a posh restaurant for a romantic meal. Loads of other people had had the same idea amazingly, the place was packed with people grudgingly forced to celebrate their love by parting with some money. Personally I was delighted to have an excuse to spend some time with my wife and we had fun eating fish and drinking booze. She asked me which of our seven Valentine's had been my favourite. I could only remember the first one and the one we were having now. So I said the first one. Luckily my wife had the same amnesia about the middle five Valentine's Days (we can't even remember where we went last year and the blog isn't very specific, though the year before I was gigging). I think this is partly down to the forced nature of Valentine's Day. I remember the days where things were more spontaneous.
But tonight was very special: the food was great, I got drunk really fast and I enjoyed watching the other couples as usual and working out which ones were already over each other and which ones were doomed. I love my mobile phone, but was polite enough not to look at it until my wife went to the loo. A couple near us were both sitting silently, checking their phones. Romance isn't dead, right?
The restaurant was full of couples, apart from one booth where three generations of a family were sitting. Their table was still festooned with tiny hearts and I suppose there was a chance that the only way the mother and father of the two small children could celebrate this day was to take out the whole family (though couldn't the granny have taken care of them or at least taken them to a more kid-friendly place). They were possibly tourists who had booked the table not knowing that this was a special day in the UK calendar. I enjoyed the incongruity.
The wind was whistling through the trees outside giving me hope that global warming and climate change will destroy the planet before my Ferrero Rocher obligations become unmanageable. Fingers crossed. I fancied that St Skeletor was creating these slightly worrisome conditions as preparation for tomorrow's celebration of hate. His bony anus, sending out these thunderous farts to let us know that love, like us, is doomed.

Thanks to those of you who have already made a one-off donation or a monthly commitment via the gofasterstripe "I Paid a Pound" campaign. Predictably, as yet, we are still some way away from having paid for the badges themselves, but the monthly subscriptions have already reached a point where we are only 941 years away from raising a million pounds. If you think this blog and my various other free podcasts are worth £1 a month to you then it would be brilliant if you could sign up. We're going to be providing exclusive content and other freebies for those who subscribe, but more importantly we will use all that money to create more comedy content. The next thing I would like to do is to produce a monthly filmed version of As It Occurs To Me with properly filmed sketches, cartoons, puppets and stand-up content. But that will cost a lot of money to make and given all the other gambles I am taking with my own cash this year I am not able to fund this one myself. It would probably only take everyone who reads this blog to give one pound a month and we'd be able to make that. I would much rather do it this way if possible than look for sponsorship or advertising. I'd really like to produce sitcoms and all kinds of other content this way too and it really wouldn't take many people (giving the price of half a cup of coffee a month each) to give us the funds to do something amazing. I will continue to give out most of my stuff for nothing. If you can't pay or won't pay then you can still enjoy it all, but if you'd like to see more then insert some cash here

Here's this week's Metro column for your mild delight.

Dan Gluesenkamp from the California Native Plants Society has been in touch asking me if whoever has the Twitter handle @CNPS (a Consecutive Number Plate Spotting fan) might be willing to relinquish it so that it can be used by the CNPSUS. The game of CNPS is almost dead now due to the terrible introduction of new number plate system and only the most foolhardy person would embark on trying to complete the challenge now. So if you're the one with the @CNPS account and are happy to hand it over for the cause of protecting Native Plants in California then contact Dan at dgluesenkamp@cnps.org. CNPS is the comedy gift that keeps on giving. What a surreal little twist in the tail this is!