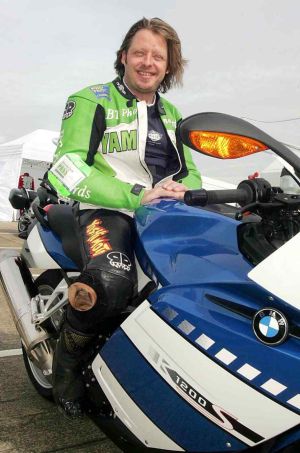 I am not the only one who mistakes strangers for people they know. I was reading the paper, waiting for my friend in my swanky club in central London, when the man sitting next to me leant over and held out his hand for said "I just want to congratulate you."
Instinctively I shook his hand, though I wasn't sure what he was so impressed by. I had just completed the Guardian Sudoku without having to write in any options in tiny writing in the corner of the squares, but it was only a medium so it wasn't that impressive. "Well done on the Long Way Round," he continued, "An amazing achievement."
Though I wasn't sure I realised that he probably thought I was Charley Boorman who motorcycled round the world with Ewan MacGregor last year. Someone else had pointed out my facial similarity to this fella, though to be honest I can't really see it. I am much better looking. But still it was an improvement on Dom Joly.
"I think you've got me confused with someone else," I told him. "I wish I had done that, but I think I'd remember if I had."
The man was apologetic, unnecessarily I thought. It was a compliment that he thought I was physically capable of motorcycling rounf the world. And it was dark, so it was an understandable error.
Still it wasn't as good a comparison as one made recently by a slightly eccentric cab driver. "You know you look exactly like Brad Pitt," he told me.
"Yeah right, piss off," I replied, not unreasonably, given that our only real point of similarity is that we are both men. Oh and we've both had sex with Angelina Jolie.
"Don't worry, I'm not that way," he reassured me, in case I thought he was trying to charm me into bed.
"What blind?" I asked.
"Come on, you must have been told that a lot," he insisted.
"No, I can honestly say that I haven't."
He seemed disappointed, like this meant he was weird or something.
On the plus side every time I tell this story to my friends it does seem to make them laugh more than anything I have ever said to them before.
I wonder if Dom Joly ever gets mistaken for Brad Pitt. You'd imagine he must. And have you ever seen me, Dom Joly, Brad Pitt and Charley Boorman together in the same room?