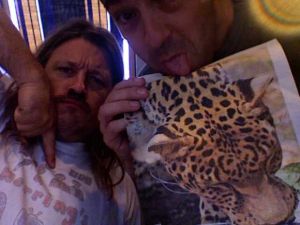 Collings came round early for podcast 66 (if only we'd waited til tomorrow it would have been on 6/6 too) and though he wanted to do the whole thing without swearing, after our successfully curse word free stint on 6Music last weekend. He is obviously hopeful that if we can prove ourselves to be professional and inoffensive then maybe we'll get a proper paying job together. Well fuck that! Podcast Richard Herring was never going to stand for such nonsense and whilst the real Richard Herring would love to be back on the radio, the podcast one is not going to suck up to anybody. Poor old Andrew Collings. What has he shackled himself to? He will never work again.
But whilst the good real me is perfectly capable of doing live radio, the evil pretend me was delighted to be back to in his no limits attic and spent most of his time pretending to eat semen. I am proud of both myselfs.
As always you can hear the finished product
here
.
I had a few hours to get a bit more done on the book, before driving out to Kent for a gig in a night club. But it was luckily a comedy club first, before the dancing started. It had started late and I wasn't on til after 11, at which point the place had started letting in people for the post gig dancing and drinking. Some of the lads were not impressed that they had to wait for my set to finish and some mild heckling started up. Luckily I was more than equal to it and the crowd was behind me.
One guy (I'm guessing it was a man) decided to use the classroom tactic of whistling during pauses in my set, but in a way that it was impossible to tell who was actually responsible for the noise. But this was not school and I was not a supply teacher and I was able to use it to my advantage. First of all I claimed that I was being heckled by a canary. "Well, you my feathery friend," I said, "You didn't reckon with the fact that I am the Dr Dolittle of the comedy circuit and more than capable of coping with heckles from any living creature." I then whistled back and said to the audience, "You don't want to know what I just said about what his mother gets up to with her cloaca! We won't be hearing from him again." It wasn't bad off the top of my head. But the whistling continued despite my confidence, but I was actually quite pleased. I couldn't try out new material at this gig as I had hoped as it wasn't quite the right environment and I'm a bit sick of the old stuff, so I was happy to be able to think on the feet and improvise something different. And it was one of those gigs where the heckle put downs came to me thick and fast.
"I'm probably going to find out at the end of the gig that the person doing that is disabled and can only communicate through whistles and he's going to come up to me afterwards with his carer, whistling away and his carer will say, "He thinks you're the best comedian he's ever seen."
It was all good fun, though despite my attempts to flush out the disruptive element and get the rest of the audience to murder him, he managed to stay skulking and whistling in the darkness.
I called the idiot childish for restoring to such tactics, but realised that at the time I was standing banging the ends of my fingers together, in the playground illustration of homosexual sex. Luckily I was able to mock myself for my hypocrisy.