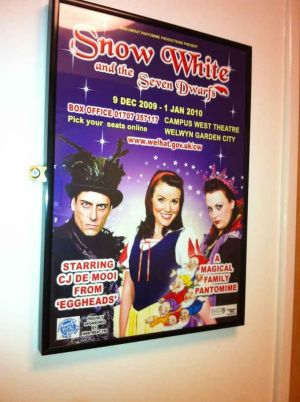 Congratulations to Ayman al-Zawahiri on his promotion. I was delighted to see that he got the job. Some members of Al Qaeda had been pushing for a younger more photogenic leader who doesn't look like a nutty character from a slightly racist 1970s sit-com, but al-Zawahiri has the experience and has put in the work and deserves it. But he's got big shoes to fill. Plus that every present danger of instant dismissal without recourse to a tribunal. But good luck with the new job.
Tonight gigging in Welwyn, and was amused to see that the theatre had plastered the lobby with posters of me in all different colours, slightly reminiscent of Andy Warhol and put signs in the window at the front saying "Something Fishy Here Tonight" and "Herring is here" and things like that. They seemed excited to have me anyway, which is unusual. And we'd sold about 100 tickets which is great for a preview, although there was room for 350.
Backstage there were posters of previous shows that had been at the theatre and I was very disappointed to miss the 2009 pantomime, Snow White, which had starred CJ from Eggheads. And seemingly no other "celebrities". I wondered if there had been high-fiving in the Campus West offices when they had secured the not very good one off of Eggheads for their panto. And once they had him did they think, "Well we don't need any other "names" - CJ will pack this out" or did they just blow their whole budget on CJ. It's hard to imagine any kids being that excited about seeing a man from off of quite a middle-aged quiz. But when I tweeted about it, someone who had seen him said he was very good. Though I don't know what Snow White character he is playing there - he looks like the Child Catcher, but that's from Chitty, Chitty, Bang Bang.
If I had known CJ was going to be a big panto star
when I saw him at that service station in 2006
then I might have been less rude about him.
What a strange business show business is.