https://www.comedy.co.uk/live/circuit_training/richard_herring_2018_interview/

Back in the late noughties, one of the last interviews I did as Metro's go-to comedy freelancer (before the advertising downturn messed everything up) was with Richard Herring, which turned out to be fairly significant, for me at least.
He was then doing a podcast with Andrew Collins, for a website that would soon evolve into British Comedy Guide. And so, having gotten addicted to their downloadable back-and-forth, I headed to the BCG too, and launched this very interview slot. Ironically, Herring then became a Metro columnist...
10 years on, we've both moved out of London (not together) to the wilds of Hertfordshire (not that wild). And so when Herring made the short hop to Hertford for a gig a few months back, we sauntered off to a local pizza establishment for a chat about that big move, a decade of podcasting, and a lot about writing.
The reason we've kept it on ice since then is that he didn't have much to plug. Now, he has. There's a Kickstarter to support the new series of Richard Herring's Leicester Square Theatre Podcast (RHLSTP!), and those tickets are on sale
Plus, there's his forthcoming book, Emergency Questions, which is a bit like the Emergency Questions books he released via Go Faster Stripe fairly recently, but much bigger (800 more questions) and much harder (it's a hardback), all of which we chat about below. It's out on October 4th and is available to pre-order
And this very Thursday, Richard is compering the Joke for Scope charity extravaganza at Islington's excellent Union Chapel, headlined by one Russell Howard and also featuring Rosie Jones, Shazia Mirza, Chris McCausland and Stuart Mitchell. Good charity. Good line-up, too.
But now, let's hurtle back to early summer, in the suburbs.
Country File
Moving to the suburbs - any ups and downs? Did you worry that you'd lose your edge?
I'm finding there's actually loads to write about, because it's so different. There's lots of things happening, you're in the countryside and see different things. I'm happier - not missing London at all.
Did you take any persuading to move out?
No, I was quite keen to go, we had a daughter and were planning to have another child - I grew up in the countryside. It's a nice community, people aren't dicks, and no one really knows who I am - well, they know I'm a comedian.
Where do you write now? Do you have a writing room?
I do, but I don't use it very much - we're just getting it done up now. I'll tend to drive somewhere and work in a café. It's been very hard, being on tour, trying to write this book - which is easy, but I still need to sit down and do it. And the sitcom [Relativity] for Radio 4.
I tend to wander around - it takes a long time to get it all swirling around in my head so I feel like I'm getting nowhere, then suddenly something will make me sit down and I'll write it all quite quickly. Hopefully.
I find that the things I write quickly are miles better than the ones that take ages...
Whatever happens, I always end up writing very quickly, I do a lot at the last minute.
Tell us about the sitcom, Relativity.
I've done the first series, it's a bit based on the thing I did on TV 10 years ago, You Can Choose Your Friends: a family sitcom, Radio 4, but with a bit more bite in it. It's 11.30 on a Thursday, daytime, so it's a bit more restrictive in some ways.
I saw the recording of Mae Martin's show about sex and drugs for that same slot, and was surprised what you can get away with.
Hopefully - there's some quite serious topics in this second series, so we'll see. But I've been finding it very difficult to do, just because of not having the time. The characters are formed enough, so once I know where they're sitting, the stuff will just come out. I want to make sure all of the characters have a fair go. It was the same with Time Gentleman Please - but I managed to write those in a week.
Deadlines are handy.
The way I like to work is to get something together and the actors read it, then I take it away again - do a collaborative thing. The first script is just the starting point.
Blocks and Books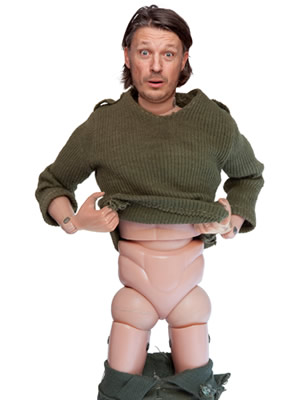 In that interview years ago I asked your advice on getting over writer's block: I think your advice was just 'get on with it'. Which does actually work. Not writing at all is the problem.
That's true. When people say 'how do I become a writer' - you sit down and write something. And you're going to get better - I hope you feel it as well, but I always think that I'm improving. That's why it gets harder though: now I'm thinking 'is this good enough?' and you worry so much you can't get on with it. But rather than writing nothing you might as well write something.
When I was writing a new show it used to be so painful, but the last few times I've gone onstage somewhere with nothing and come up with 40 minutes. It's having the confidence to do it.
There was an interesting bit in one of your podcast interviews about how you keep shows interesting for yourself, later in a tour...
In the old days it'd be head down and zip through it - you'd just get bored during a tour - but now it hardly ever happens. Sometimes I'll drop a routine, as my shows always run a little bit long anyway. But now it's 'how can I make this better?' - speed, language, you can just change one word, a pause. Every night you're getting closer to getting perfect. But you never quite get there.
You've done two lengthy double acts over the years, with Stew and Andrew - can you imagine doing another?
The podcast is sort of a different double act every week, so I'm exercising that muscle. I never say never, there's people I work with sometimes who you go 'we should do something together.' Sarah Millican's always saying we should do something, Greg Davies I had a really good time with, Adam Buxton I really love working with. But me and Adam are probably too similar.
I do get asked to do things - I got asked to co-write a film today - but I want to make sure I get time off. And if I want to write something I'd rather have time to do one of my own things, if they come up.
What else have you got on the go?
There are things floating around. I've just had a terrible meeting with one TV company, all the people there changed, so I don't think they really get it, and I told them they didn't get it. A lot of it's been my fault though, because I've been late with things. Maybe if I'd got it in earlier...
How did the new book happen?
That [first] Emergency Questions book, with no publicity for it, we printed it ourselves and sold 6000 copies immediately, the first week: if we'd made it hardback it would've been top of the bestseller list that week. So they've realised, if you're a fan of the podcast - 200,000 listen - you might buy it, and I think they're banking on picking up some casual buyers.
The editor's really good, he gets it. For them, it makes sense. My other books: How Not to Grow Up did ok, but Talking Cock didn't.
Bit of a niche audience?
Talking Cock, they gave me a big advance - it was in the old days - and suddenly got cold feet and didn't really promote it, so it lost loads of money. I think they suddenly realised that people wouldn't put it in the windows of the shops. You'd have to ask for it!
So this'll be interesting to see. My wife gets royalties from her books. I've never had royalties from any of mine.
Talking Tough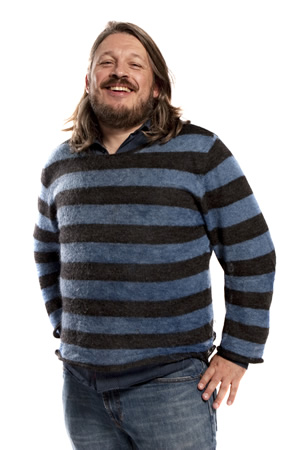 I've just listened to your Sophie Willan and Jess Phillips RHLSTPs, which get pretty serious...
Yeah, there was always the propensity to go that way. What I like about it, it more or less goes with what the guest wants really - if they want to just talk all the time, I'll allow it, if the guest is struggling then I can come in, if the guest isn't a comedian I can inject a bit more funny into it. But also if the guest wants to make it more serious, then that's fine.
There was a sort of character I did in the early ones that was partly true, partly not true, of me being slightly resentful of everyone else's success. Which was sort of a joke but sometimes I wasn't quite sure.
Sometimes I thought I'd crossed the line and upset people. David Mitchell, I really misjudged that I thought - he was very charming about it the second time he came on, 'I knew you were joking', but it came across misjudged, even though it was meant to be a joke.
I've seen stand-ups completely misread the status they give off, and lose the room.
It's a very difficult thing for a comedian to judge, because you can be talking for an hour or two, without a script: sometimes the audience is a bit quiet, sometimes I'm a bit too loud. With the podcast, a lot of audiences listen and are enjoying it, 'we feel comfortable not having to laugh...'
Apparently Scandinavian audiences just smile, then clap enthusiastically afterwards?
Different gigs, there are different audiences. Even as experienced comedians, you sometimes get 'wow, what's going on, why aren't you as good as last night's audience?'
I couldn't carry on doing that [jealous character] because the podcast became successful enough... I think Stewart had the same problem, he played this low-status character who the industry didn't like, and he battled on trying to play that, and had to believe it in his head.
But he was the most successful stand-up in the country; certainly in stand-up comedians' terms, that's where you'd want to be. So him doing jokes about Russell Howard, suddenly that seems like sort of bullying.
It's different if you're a weird comic no-one's heard of, and are punching up.
Yeah. He acknowledges that he had to struggle with that. I became a lot more comfortable about my own level of success, but there was a point where I probably was 'why hasn't it happened for me?' - I'm still interested in why it happens to some people and not to others, whether I did anything wrong, was it just luck, whether I pissed people off! Not being asked to do loads of TV.
It's easy to get paranoid, which lots of comedians do. But actually, where I've landed is better than anything I could have hoped to get, certainly in the modern era. The best you can hope for is captain on a panel show. Which is fine, but I want to be creative - if the right thing came along then maybe, but I'd much rather have the autonomy of stand-up. 90 percent of what I do still is self-generated.
I'm in a very creatively lucky position, and as I've got older it's good not to be massively well known. You can have a life, come to Pizza Express...!
It's the bloody dream.
Arthur Smith talked about that level of mild fame being the best kind, because you get some of the benefits without the bad things - you appreciate the freebies. You go to a TV recording and go 'oh yeah, presents!' I still find it hilarious that they do that. Whereas if you're Jimmy Carr or Jack Whitehall, it's probably 'oh here's another free iPod, I'll throw that in the bin.'
You don't get that with podcasts, but there's so much freedom with RHLSTP - you can talk to Brian Blessed, or an MP.
The tone has changed, I've got better at it. I'm good at recognising when we can go serious, when it needs an injection of funny or needs to be moved on, I'm pretty good at steering it I think.
Even with Brian Blessed, where a lot of people would say 'you didn't do anything' - I managed to book him which was really fucking hard, took me five years, and I completely understood how it had to go.
We played a very nice double act, he came off and said 'you're a brilliant interviewer, thank you for everything you did,' and I said 'I didn't really do much' but he said 'no, you knew when to be quiet.'
Pods vs The Box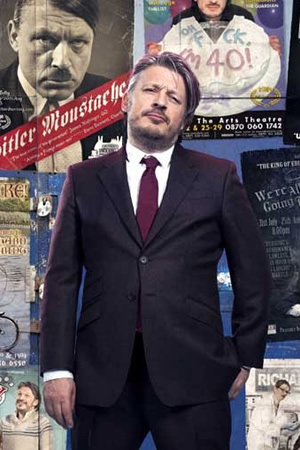 I'm not sure TV is even relevant now. There must be loads of newer comics who don't even think about it.
It's interesting, I think both All Killa No Filla and My Dad Wrote A Porno - it'd take them a long time to get onto TV normally. But the podcasts are very successful, they're getting a worldwide fanbase by doing this thing on their own, they're very sharp, very clever. Alice Levine [from Porno], of all the guests this series, I thought she was probably the quickest-witted person. She's got it.
My podcast, the book is the first time I've thought 'this is a part of it we can take and put in the commercial world.' Maybe if Netflix or Amazon said come and do it, it'd work, but it wouldn't work on regular TV.
I think you throwing yourself at podcasts showed a lot of other people what can be done.
There are ways of making money out of it, but It was more about publicity for the live stuff to begin with. Then once you've done it, you own the idea, you're the 'brand,' if you like, and there's no-one else sucking bits of it - sucking you off.
Then you start to get audiences coming, and sponsorship - the Porno guys are doing the Albert Hall. If you've done that, if every podcast is an advert for you doing a 2000-seater gig, then you sell it out, you don't need any of the other stuff.
The phrase that always came up when I interviewed TV comics was 'I only do TV so I can tour'.
Stewart is the last person really - Dave Gorman as well - who had a stand-up show on TV that's completely their baby. It's crazy that there isn't more of that.
We don't have the a 'special' culture in the UK, comics building towards a TV special or an album.
The limitations of TV are taste and time, and the fact that it goes into people's homes - I think people feel safe to come on a podcast, although you get to a point where you forget it's going out. We have to edit things out because people forget they're talking to the world.
It does bring people to live comedy - I know people who've discovered comedians through podcasts. I certainly have.
Exactly, in the early 2000s, I was touring and getting 50 or 100 people, I'd be very happy with that - even on the back of TV, Lee & Herring were never a massively successful live act. It was noticeable how it built up, and I've done other things, but it's mainly the podcast.
There must be listeners all over the place.
They're everywhere. The second gig, in Liverpool, the later one, it was all 22 year-olds. So it means my audience isn't dying off, I'm getting new people coming in. Now I can do 500-700 people, that's sort of incredible - maybe me and Robin Ince are the only ones doing that, without TV.
I've probably done too many shows in Hertfordshire recently so I'm not full tonight, probably a couple of hundred, but I'm happy with that. If you'd told me 10 years ago I'd get over 200 in Hertford, I'd have said 'naaah...'
You couldn't have predicted back then how podcasts would change the comedy industry.
I suppose Edinburgh was like a podcast before podcasts, people doing what they want to do. But with Edinburgh, people were losing lots of money. That's why now, I think if you're trying to get discovered, don't spend £8000 on Edinburgh - with a few friends you could make an amazing internet programme for £8000. Then email that to all the producers.
And it's always there. Although if it's bad, that's embarrassing.
I listen to podcasts a lot more than music now. You're killing music!
I hope so. That was always my aim.