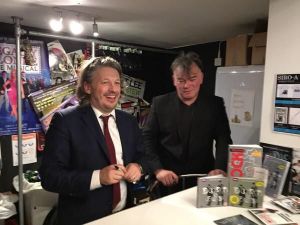 4383/17302
So we're attempting to get the DVD of This Morning With Richard Not Judy released in the next couple of years (hopefully series 1 will be out in 2015 and series 2 will follow in 2016), so we're trying to generate extras and the funds to do so. Today was a good start with a sold out RHLSTP featuring Paul Putner and Trevor Lock in the first half and then some minor figure from the show in the second half called Stewart something. The first podcast will go out for free as usual, but the second one will be released as a paid download in the hope that we can generate enough money to help pay the first instalment of the massive fee that the BBC have requested for the series. We managed to cover our costs with Fist of Fun, which is all we've ever hoped to do, Chris Evans, not that one, has done great and hard work to get this stuff out to you, because (as with all his DVDs), as a comedy fan he just wants to see it available. So I hope you won't mind that you'll have to pay if you want to see or hear this one.
I had an enjoyable afternoon watching a couple of episodes on youtube. It happened so long ago that I think both Stew and me have forgotten most of it and both agreed that we can now watch this stuff almost as an impartial viewer. Neither of the men look or feel like us. In my case the man is not actually me as he was replaced by a fake Richard Herring at some point.

But I was pleasantly surprised by how well the show held up. The fact it is live means there are some errors and misfires, but it also makes it feel enormously exciting, like anything can happen and it's fairly astonishing what does happen. Even in the bits that are pre recorded. I'd thank the BBC for the freedom they gave us, except that I think we mainly had that freedom because no one from the BBC was really paying attention. Maybe that's unfair. There were definitely executive producers who were watching and intervening a little bit, though my memory is mainly of being asked to not do some bits and warned that it might make it difficult to get another series if we didn't compromise on some stuff. But as cocksure young men we stuck by our "principles" (whatever they were) and didn't cut stuff that we weren't forced to. So you'll see Stew advising viewers to watch Sky where they put the Simpsons and Seinfeld on at a reasonable time or me childishly swearing in the background of hymns. We were pathetic. But that's what makes it sort of brilliant. And the show is packed with ideas and most of them are really great. After I'd watched the second series of Fist of Fun I could understand why it hadn't got another series, whilst it has lots of great stuff in it, it's a bit of a mess (largely, to be fair, because executives made us change so much and ruined it), but with TMWRNJ, I think, there was a real sense of identity and anarchy and fun. Not many people were in our gang, but the ones who were have stayed in it. There were certainly things that we wouldn't do any more (but of course, it would be weird if we wanted to do most of the stuff), but there were also several things that could have become shows or sitcoms in their own right. I still genuinely believe that Stewart Lee has never done anything as funny as Pliny in Histor's Eye. And the Organ Gang, although sitting a little uneasily in this show and not having a big enough budget to do it properly, should probably have been an actual kids's show.
How nice to see some of the gang again. Emma couldn't make it due to a family illness, which was a big shame, but hopefully she can come on another time to catch up on the old days. Paul and Trevor were there early to record a couple of extras - I'm going to try and get as many of the cast members as possible to record a "History of Alternative Comedy" style recap of why being on TMWRNJ was an amazing time for comedy and how it changed the face of society. I argued that my food and milk sketches had made the country consider how insane they were to drink the milk of cows and had managed to basically shut down the dairy industry and revealed how the BBC and Stewart Lee had been desperate to do more series of the show, but I had decided I would rather move into internet based comedy. We had had some SDP mugs made especially for full effect.
The podcasts themselves threw up some surprises and controversy, for example it was only as I chatted with Stew that I remembered that I had originally pitched the idea of a spoof morning show as being hosted by me and Nick Owen from off of Anne and Nick. I'd been impressed with how funny he'd been on an episode of Fantasy Football and for some reason thought that me and him as a double act might fly. I have no idea how that would of worked and it would obviously have been awful, but I'd gone as far as taking him out for tea at the Ritz to try and woo him. He'd seemed quite up for it, but it never went any further.
Thanks to everyone who came. I think this is one that you probably really had to be at live to get the full experience. It made me happy. It made me sad.
But was lovely to drink with the crew afterwards and thank them for 9 weeks of hard work. I don't think we'll be able to afford to film the series from now on. 2014 has been the year of spending money on stuff, but in 2015 I am going to have to tighten my belt (even though I have ended up literally tightening my belt in 2014 - I actually had to buy a load of new belts). We might film the occasional one every now and again, but we're going to save our money up for AIOTM which I hoped we might be ready to do by next autumn, but might be more like spring 2016. If at all. It won't be the same doing these without Craig, George and Kinga or Chris Evans (not that one) and I massively appreciate their hard and underpaid (and in Chris Evans (not that one)'s case unpaid work). This series looks lovely. So enjoy them all on iTunes or youtube and we will be back to pure audio in May. You've still got enough podcasts to take you through to February 2015 to come though.
A pound a month from all of you
and we'd do some amazing stuff, but we'll find a way to do some interesting stuff anyway. The longer this goes on the happier I am that this is what I've ended up doing.
I am very proud (and ashamed) of this series. Thanks to Martin, Jason and all the staff at the Leicester Square Theatre and all the guests who gave up their time and dignity.
And with that I have completed 12 years of blogging every day. Tomorrow is the WU birthday, but that's a dozen years of my life. Not convinced that I will make it through the next year without missing a day, but it might be time to miss a day. If all these blogs were printed up and placed on top of each other they would now be over a foot in height. If the words were written out in a single line it would reach from here to the fridge. Thanks for sticking with me. If you've been here from the start, then I admire and pity you, if you dip in and out, then thanks for dipping in. If this is the first one you've read, this wasn't a great place to start.
It is a monument to mediocrity and to persistence that borders on mental illness. TWELVE MORE YEARS! TWELVE MORE YEARS!