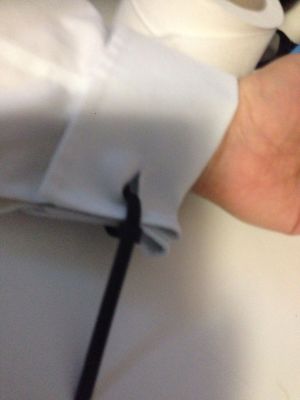 4171/17090
I didn't watch my appearance on Pointless Celebrities tonight, but I was able to follow it and relive it on Twitter as I sat in my dressing room at the Stables in Milton Keynes. This blog will contain spoilers so if you want to watch it first (don't bother) then go to iPlayer first.
It's been almost five months since I recorded the show, but I was still feeling scarred by the experience. I had so been looking forward to being on it and given that no one else had seen the show and Tim Brooke-Taylor and John Bird were very keen to be knocked out and that the first round was about 80s pop music I don't think anyone would have bet on me and Rhona Cameron being knocked out in the first round. Certainly not with 200 points. But this is why Pointless is such an amazing game. Sometimes a lot of knowledge can be a dangerous thing.
I can't remember being as nervous as I felt during this opening round. I can walk on stage at the Hammersmith Apollo and my pulse scarcely rises, but I was utterly terrified on the set of this iconic show. And it was made worse by the amount of time it takes to film the first round. The progress up and down the line is slow as Xander interviews each contestant and it's hard to concentrate on his questions when you're desperately trying to think of an answer to the question.
And whilst 1980s solo performers who got to number 1 should have been a piece of cake for us, I did find my mind alternating between being blank and then questioning everything that it came up with. Was the act definitely from the 1980s and did they definitely have a number one? But also how many people would remember that? Was Joe Dolce, the world's most famous one hit wonder actually that obscure.... and hold on was he definitely in the 1980s. I recalled the song being parodied on Tiswas, but thought I had only ever watched that in the 70s (I had momentarily forgotten that it kept Ultravox off the number 1 spot, a fact that would have confirmed its 80s status) and at the back of my mind I remembered that the song had been recorded by Joe Dolce and the Pizza Mafia Italiano Orchestra (or some other stereotypical name). So I discounted it. My brain was thinking of school discos, but only coming up with bands. I didn't even think of Howard Jones and "What is Love, Anyway?" but if I had I think I would have questioned if it got to number 1. And according to wikipedia it didn't.
I had let Rhona go first because I assumed she'd come up with a good answer and then I could just say Whitney Houston, Cliff Richard or Michael Jackson or some other such obvious answer. I wondered if Lionel Ritchie would be a low score. What about Stevie Wonder? Paul Mccartney, maybe or were all his 80s hits with Wings? John Lennon felt probably too obvious, but again I wasn't convinced that the songs that got to number 1 after his murder (definitely in the 80s) had been solo or collaborative. I had too many possibles, but only the potential very high scorers felt secure.
And I was a bit hampered by none of the other players knowing how the game worked. After the first pairing scored 100 on their first answer we would have been safe to give two obvious answers, but Rhona didn't understand that and decided to go for something that would score low. It was a good obscure answer which definitely got to number 1 in the 1980s but was not a solo artist. She said T'Pau. I still wasn't too worried as Tim Brooke-Taylor and John Bird were to our right and I thought they might get two wrong answers. But T B-T lucked out a little bit because Adam Ant had a couple of solo hits, though John was unlucky that Paul Simon's 80s hits didn't quite make it to the top of the charts. I had little information about what popular answers would be scoring. All I knew was that Adam Ant and Paul Young both scored 7. And I was in an interesting tactical position. Did I say something definitely right and put the pressure on Don Warrington to beat me? Or did I try and get an answer that would score under 7 and thus get us straight through? And which of the answers swirling in my head would I choose? None of them seemed right any more.
I wanted something definitely anchored in the 80s and I remembered that after Lennon's death, Bryan Ferry had got to number 1 with Jealous Guy as a tribute to him. I knew it was definitely a number 1 and definitely 1980s and I thought it was obscure enough to have been forgotten about by the general public. And I also had a pretty strong feeling that it had been released under Ferry's own name, rather than Roxy Music, due to how quickly it had been produced. I had the slight back up of knowing that he had released some stuff later in his career as a solo artist so that might save me if I was wrong about Jealous Guy. In my nervousness I felt I should take the chance. But I could see from Richard Osman's stony face that I had got it wrong. Before the show he had told me he hated it when big fans were contestants because it was heart-breaking if they got knocked out early. Somehow I had contrived to fuck this up - though I was put in a difficult position due to Rhona's answer. I wasn't cross with her though. She was hugely embarrassed about it. I was annoyed by the way that Dom Joly compounded her embarrassment by repeatedly back referencing the mistake.
He had been very blase and rude about the programme beforehand, so surely the Gods of Pointless would not allow him to triumph. But there are no god of Pointless and there can be no other God either, because not only did Joly obnox his way to winning the show (we would have been the only real opposition to him and the lovely Robert Llewellyn, but I think they would have beaten us anyway) but unbelievably he also found a Pointless answer in the final. Which hardly ever happens in Pointless Celebrities. If he hadn't done that then the prize money would have been split between all the contestants' charities. It really couldn't have gone any worse for me. The fact that Robert Llewllyn also won is the only thing that stopped me taking my own life.

Weirdly if we'd known nothing about 80s pop and said Michael Jackson and Cliff Richard then we'd have gone through. Had I known that Michael Jackson would score 25 points I might have taken a chance on one of the less obscure thoughts I was having. We knew more about 80s music between us than probably any of the teams and yet we crashed out. That is the beauty of Pointless. And in hindsight if I'd said Whitney Houston, like I had been planning to before Rhona's answer, we might well have gone through. Bryan Ferry was so close to being a genius answer too. You know, if only it had been right.

But in defeat and humiliation I learned more than I would have done if I had won. Because although I was just 60% crushed on the night, I was really depressed about this for days afterwards and playing it all over in my head again and again asking myself why I hadn't said "Joe Dolce". I was in a properly foul mood. I couldn't even watch the programme any more. It was worse than the Mastermind experience, because at least then I had acquitted myself well. In Pointless, slightly cruelly, you can go all the way to the studio, hang around all afternoon and then get one wrong answer and be on the way home (even more cruelly, you can be knocked out if your team mate gives a high answer and all the other teams score lower than that, without you even giving your own response). How could the game I loved have hurt me so badly?
Yet it is just a light-hearted quiz show and I knew it was partly funny that things had gone so badly for me, but I also realised that it was pathetic that I was taking the disappointment so seriously. I had partly been anticipating the second round of humliation as everyone took the piss out of me on Twitter as it aired (though people were much more empathetic on the whole). I think it's good to be competitive in a game up to a point - it's more annoying to not try and not care so that you are protected from the pain of defeat - but there's no way I should have been beating myself up so much about something like this. I decided to pull myself together in the future. And accept my rightful place amongst the losers of the world. I can be their king. Dom Joly was born with a silver spoon in his mouth and has never for a moment in his life had any kind of disappointment or setback with everything he wants just falling into his lap (in my imagination). It is much better to be a man who has lived a life that has battered him and disappointed him. Especially if the main disappointments in his life are being knocked out early in a light entertainment game show and scoring 35 points on Celebrity Mastermind.
So I think what I really learned is that if being knocked out of Pointless has been one of the most upsetting things I could remember, then I must have had a pretty lucky life myself. And none of you would like it if I actually won anything. The fact that I want it so much makes my failure all the more enjoyable. And it would make success unbearable. So it's all for the best.
But I am not sure I can go on this show again. Playing the app has made me appreciate how difficult it is even when you're not under the spotlight and I don't think I could put my wife through my Pointless downer again when I inevitably screw it up again. We'll see. It would be nice to have a coveted Pointless trophy to go with the space where my Mastermind trophy might have gone. At the moment it's just two spaces.
If I do return (and I think I probably should) then hopefully I will be able to cope with triumph and disaster and treat them both the same. I certainly have to stop being such a prick. Although then where would my comedy be?

I had feared the broadcast would depress me all over again, but it was a cathartic and a relief for it all to be finally out - I guess part of the problem was that I wasn't really able to let out my frustrations (though my wife and friends might disagree with you on that). And Dom Joly might have won Pointless but was he going out to perform in a theatre in Milton Keynes to nearly 300 people, wearing a shirt with cable ties holding his shirt cuffs together because he'd forgotten his cufflinks? No he wasn't. Did Dom Joly unknowingly perform a whole show with his trouser leg tucked into his sock? No he didn't.
Maybe my life is falling apart. But it was one of the best performances of this material I've given and I had a lot of fun. Only six more chances to see it. Come to the DVD record if you can. I'd love to go out on a high. And if you want to make up for me failing to win any money for Scope on Pointless then donate here. Why should Scope have to suffer for my stupidity?