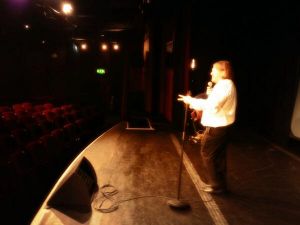 4081
Yesterday on the run, as I looked at the Thames, I had been ruminating on the fact that it's about ten years since I was rowing on that river in the Other Boat Race. But when I looked back at my blog to check I discovered that today is the tenth anniversary of the check-out assistant in Sainsburys remarking "Someone Likes Yoghurt!" Nowadays, of course, such incidents will become rarer as you're more likely to be served by an automated check-out machine and shamefully (as yet) these have not been programmed to comment sarcastically or intrusively about your purchases. They pretty much just have the one phrase of "unexpected item in the bagging area", which is OK as a catchphrase goes, but does not have the sophistication of a human interraction. It'd be nice if some thought went into programming these things so they are more likely to help comedians write blogs that will lead to 20-40 minutes of stand-up. How about occasionally the machine says, "Are you trying to steal that?" or "Look at all those Mars Bars, you know we sell fruit here, right?" just loud enough so the people at the other machines can hear and laugh at you, before being taken down and zinged by their own cyborg server.
I wonder where that check-out woman is today and what she's up to. She probably doesn't remember this incident at all, let alone realise that it led to an obscure stand-up show of the same name, earning me enough money to buy over a hundred yoghurts.
I don't need any help noticing the rapid passage of time, but I was also tweeted today by @mathaversaries who informed me that I was 17,000 days old today. And even though this is an easy calculation to make based on years, somehow seeing it in days brought it home to me, I have been writing this blog for almost a quarter of my life. From now on I should start putting that at the top of Warming Up along with the entry count. So then we can celebrate that momentous day too. Either that or someone with the ability to do quite basic maths can just let me know what date will be a quarter of my life. And when I will have been doing it for half my life (presumably when I am about 70) and when I will have been doing it for so long that it turns out that I have an entry for every day of my life (when I am infinity years old, right?)

Today saw the second recording of Meaning of Life with guest Professor Richard Wiseman. This time I had the welcome addition of an autocue which helped things flow better and also a packed theatre which was most reassuring. It felt like it went pretty well, but it took a little while for the audience (or maybe me) to relax into it. We learned some lessons from the last time and I am hopeful that each month's show will be an improvement on the last. We also showed the animated opening titles and Adam and Eve sketch for the first time, which went down well (thanks to Chay Hawes for all his hard work on this and Christian Reilly for the music). The interview was especially funny, but most of the material hit as well. And we rolled out the "I Paid A Pound!" badges, along with doing a couple of (deliberately) confusing adverts for them. It would be nice if we sold 20,000 of them, but I suspect that we might not sell enough to cover the cost of making them! You will soon have a chance to buy an array of slightly different badges (depending on how you choose to contribute) or to pay to download longer versions of the show (in both audio and video format). Any profits from this will be ploughed back into making more online content. Any losses will be sucked up by muggins here!
There's a couple of teasers in place on the vimeo channel where the free version of the show will air. Go and have a look and follow us if you like. We will be putting up some other bits and pieces on the channel too. Hopefully the first episode will be up in a couple of weeks. Some extracts (and the full interviews) will be going up as free audio on the British Comedy Guide and iTunes too. Next month's show (as yet totally unwritten and without a guest expert) is about love. I am hoping to mainly use material that doesn't feature in "What is Love, Anyway?" But I also want these things to be as good as they can possibly be, so there might be a little bit of crossover.

But after a quick drink it was time to go home and pack for our holiday. We're going skiing for a week with friends. I have never been skiiing before. Nothing can possibly go wrong, right? I've heard it's a pretty safe pastime.