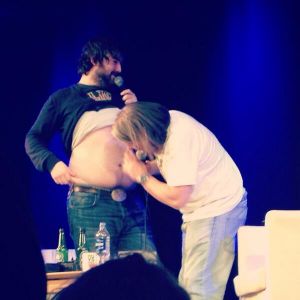 4138/17057
I was a little weary today, though am surprised that my stamina has lasted this long without faltering. I still managed a brief swim this afternoon, but am wondering if the staff at the pool, aware of my feelings about the rules of the lanes, have decided to turn my swimming life into a Kafkaesque (or maybe Beadlesque) nightmare. There were only three people in the pool when I arrived, a man in the slow lane and a slightly flirty couple in the fast lane. The man was seemingly coaching the woman with her swimming, but they were also doing quite a lot of hugging and kissing whilst she learned. Perhaps this incentivised her. This left me to take my rightful place in the middle lane. All was well.
But then a proper swimming teacher arrived and took over the slow lane to teach a couple of toddlers how to swim (fortunately not rewarding them with kisses and hugs). This was not a big problem. Slow lane man came into my lane (not in the way that fast lane man was in danger of coming into the fast lane). There was room. And then the life guard moved the lane partition between the medium and slow lane so that the medium lane was much bigger. Three (maybe even four) people could have now divided it into four separate swimming channels and even I, as stringent as I am about the lane arrows, knew that this would make obeying the directions ridiculous. It was a great solution. If anyone joined us in the lane we'd still all be able to plough our own furrow, just as fast lane man was planning on ploughing another furrow once he and his girlfriend were in the jacuzzi.
It seemed like common sense had prevailed over the overly policed world of lane swimming. Those little kids only needed a tiny lane, so give the paying adult masses loads of space. Revolution was in the air and I loved it. But there was more to come.
The lifeguard then started dividing the middle lane into two further lanes. Now the regular sized fast lane and the over-sized middle lane were adjusted into being three equally sized lanes. But these lanes were really only big enough to accommodate one swimmer. He'd tinkered too far. Before we'd had a fast lane that could have been used by several swimmers using the proper rules and a middle lane that could probably have accommodated two more swimmers before we'd have had to follow the arrows. Now there were three lanes that could only be used by one swimmer (or two swimmers if one of the swimmers was practically inside the other as was the case in the fast lane). The middle divider was totally taking up space that could have been used by another swimmer. If anyone else got in now it would be chaos. How could this visionary lifeguard have got it so wrong?
Luckily for civilisation no one else arrived wanting to swim. In fact all the other adults got out and it was only me, hemmed into my lane that might just about fit one and a half swimmers. And then I got too tired to continue and only the tiny humans taking their first innocent forays into a world that seemed fun and splashy but would all too soon become complicated and ruled by the jack-overshoe of fascism remained. We cannot live in a world of swimming anarchy, but what if the laws themselves make swimming impossible. I wouldn't be surprised if next time I go in the lane has been divided into 500 slivers of lane, which no one can use.
My tiredness made the Leicester Square Theatre podcasts a slight challenge, but I had great guests in Jon Ronson and Nick Helm and I got through it without falling asleep. Unlike a man in the second row who it all got too much for and who didn't seem to want to wake up no matter how much he was the centre of attention. In fact, we wondered if he might be dead. You'll have to wait for the podcasts to find out if he was. The Nick Helm one in particular might be a good one to get on video as there was lots of visual stuff, including me carrying out more belly-based sexual fantasies of perverts. It was not nice. I don't know what you people see in this stuff. Though I did admit that it does look like I have put these ideas up on dirty britcom confessions myself just so I can carry out my sordid sexual fantasies.