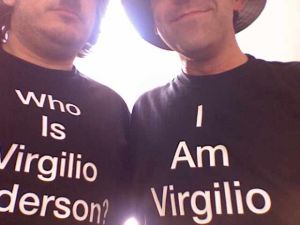 I walked down to the newsagent to get the papers for the podcast at around about 10.30am. A group of about five men were sitting on the pavement drinking lager out of cans. It was an impromptu street party. Why not celebrate the summer with a few early morning beers? And what better place to share your drinks with friends than the piss sodden streets of Shepherd's Bush?
As I got to the top of the road I saw two policemen, a chubby regular policeman in his tit-shaped hat and a younger and slimmer community officer in his fluorescent jerkin, notice the soporific revelers and decide to come down the road to investigate.
Minutes later I returned with my papers and the drinking men were being dispersed and unhappily so. They were shouting at the stout yeoman of the law and his less stout work experience colleague rather angrily in some East European tongue - and just because Virgilio Anderson is still not returning my messages or my friendship requests, let's say they were Macedonian. It looked like it could turn ugly. It was not a nice start to the day, but then I am glad the police intervened because it's also oddly unsettling to have crapulous men lounging around on the pavement in the early hours of the morning. I don't think they were homeless men, but suspect they were maybe without work at the moment. I hope so, because they weren't really in a fit state for labour. They didn't like being interrupted. That's all I know.
But I was in no place to criticise. Although I prefer to do my drinking at the other end of the day, my work is pretty stupid and odd. I recorded podcast 69 with Andrew Collings at around midday, him wearing his old man Glastonbury hat and me wearing my "Who is Virgilio Anderson?" T shirt. I think we maintained the recent run of form, but that's for you to judge
here
. I let Collings take his "I am Vigilio Anderson" T shirt with him to Glastonbury, where he's headed tomorrow. So look out for a man in a fishing hat with that legend across his chest then it'd probably him. Or it might be Virgilio Anderson.
We enjoyed ourselves, actually corpsing so much at one point - my misremembering of the British Gas slogan, "Tell Sid I came" - that we were unable to continue. It's been a while since we enjoyed anything that much. Maybe when we were reading the Jon Gaunt autobiography. Like an old married couple we mainly bicker now and don't remember the days when we used to find each other funny. So it was nice to take a step back into the past.
It is, as usual (maybe more so) rather base stuff on the whole, maybe revolving around faeces and semen. On the bright side we seem to have left behind the subject of bumming. On the dark side we have replaced it with nyumming. The nyum nyum nyum bit has quickly become surprisingly popular.
And even though Chris Moyles beat me to the gag, I think this version of the Alesha Dixon song by Nathan "Twatface" Jay is much more classy -
See what you think
. I rather like the fact that our free podcast is producing all this other free entertainment. We are spreading mischief, ugliness and beauty. Some of the things we ask you to do - like graffiting "Who is Virgilio Anderson?" in the most prominent and impressive places possible - are illegal. But send in photos if you manage to break the law. We must find out who he is. It's an underground cult and it serves no purpose, other than to make a few hundred other people in the know have a laugh and to confuse all the other idiots not wise enough to listen in to two insane old men rambling on in an attic.
I was able to use some of the stuff we came up with later on when I took part in a recording of "Hot Gossip" the Radio 2 panel show (which you'll be able to hear at 10pm on Thursday). I managed to get the topic round to the subject of Jordan's tattoo saying "Pete" and how she has had it crossed out with a big X and suggested other ways she could have disguised it. My favourite being that she could make it a tattoo in memory of the Peterloo Massacre. I doubt it will make the radio show. But it was a pretty jolly hour of recording and worth a listen if you've really got nothing better to do.
I was worried my moustache might turn the studio audience against me or indeed upset the charming host Claudia Winkleman, but after a brief explanation people seemed to forget about it. I am a lot more comfortable with having it now I have to say.
Then I headed up to Islington for another preview and for the first time it felt like I might be on the cusp of having a show. The hour passed quickly and I only got through about half of the things I want to talk about and it was mainly laughs all the way, with much fewer points where I was speaking with no jokes as people stared up at me. Lots of work to do, but also plenty of time to do it. I have a good feeling in my toothbrush about this one.