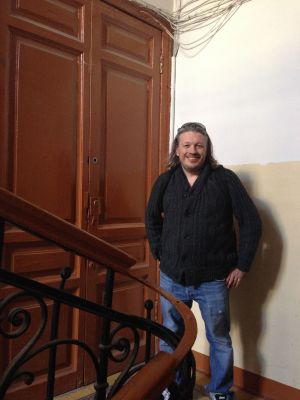 4168/17087
This afternoon we went on a Rasputin Walking Tour courtesy of Peter from Peter's Walks. The company do a vast array of walks around this beautiful city, but obviously I was only interested in the one about the Mad Monk. I wasn't sure if it would be serious or salacious and comedic like those Jack The Ripper tours you get in London, but I thought at the very least it would be a good opportunity to see where Rasputin lived and where his body was disposed of.
As it turned out it was a very entertaining and illuminating evening and Peter was an excellent guide. I don't know if the people he usually takes on this tour know quite so much about the story as I do, but I was glad to find out that he was a proper scholar. He had worked with a UK historian trying to track down the original copy of Rasputin's autopsy, without any luck alas. Peter was very much of the opinion that whilst Yusupov's account is perhaps rather dramatised and exaggerated that it's probably close to the truth - he was dismissive of the claims that the English Secret Service were involved. He did make a good point that the only two eye witness accounts come from Yusupov and Purishkevich and that they tell the same story. And that after the murder the two men went their separate ways and never saw each other again. So either the story is broadly accurate or they colluded that night and made up all those details together. Which is not beyond the realms of possibility, but is maybe less likely than their tale being a little bit tall, but essentially correct. There is certainly some subterfuge in it, but it might be as simple as them trying to cover up the active part played by Prince Dmitri, who as a Royal and possible successor to the Tsar would not want his reputation tainted with direct murder. But then again people who argue that the British Secret Service were responsible say that the Russian aristocrats were only there in order to keep the finger of blame from pointing at Britain which would have all kinds of repercussions for the alliances of war.
Would the secret service be as bumbling and useless to mess things up as much as they were though? Or was the bumbling and slapstick all part of the plot to make the assassination seem amateur when it was anything but?
I was surprised to find out that Rasputin supposedly escaped from a door on the canal side of the Palace though as all the reconstructions I've seen have shown him in the courtyard on the other side. But this might be because the canal side of the Palace is now open to the public and has modern buildings bordering the building and no fences or gates anymore, so it would not look very photogenic.
Peter took us over to Rasputin's last apartments, via the Haymarket district, which still bizarrely incorporates a Thieves Market, men standing outside the station who if you approach them will sell you knock off phones and suchlike. They identify themselves with bits of card paperclipped to their jackets. It was hard to understand why they were allowed to carry on doing this, but Peter said that this area had a long tradition of illegality and dodginess, so a blind eye gets turned.
It was great to get this local view of the city and taken through the fruit and veg markets, something that we'd never have done under our own devices. We were then shown one of the flats that Lenin had lived in and Peter told us some great stories about growing up in the 1980s Soviet Union and the books he had as a child that lauded Lenin as a kind of saintly figure, not disimilar to Father Christmas, encouraging children to eat all their dinner so they could join the Society of the Clean Plate. He had also got into trouble for trying to trace a picture of Lenin off a coin, his teacher telling him that only fine artists were allowed to draw Lenin. An interesting insight into how the Russians mythologised and canonised their historical figures. I imagine that the stuff show on this website of Lenin dancing round a Christmas (or New Year as it became known in the USSR) tree is the kind of thing Peter was talking about

Rasputin's apartment on the Street of the Pea Sellers still stands and the only sign that he once lived there is that the hairdressers at the front is named after him. The building is gated off, but excitingly we were going to try and sneak in and have a look. We waited for someone to leave and found our way into the central courtyard and then hoped the door to the staircase would be unlocked (which it was) and made our way up to flat 20 and the very door that Rasputin would have come in and out of every day for the last couple of years of his life. Behind which all kinds of shennighans had been going on, as reported by the police and spies across the street (Rasputin had no curtains). It was more of a thrill to stand outside his front door than it had been to visit the cellar where he (maybe) died. It would have been only a decade old building when he lived there, but now the stairs were crumbling a bit. How cool to have snuck in. I felt as much like a criminal as I did a tourist.
And then we took the Metro (something we'd been too nervous and bamboozled to do ourselves) up to the bridge where his body was dumped. The original bridge has been recently replaced, but we went to the point where his body was crudely chucked. I resisted the temptation to push my wife in. I think Peter would have been confused. Also the water looked a bit cold.
A really enjoyable trip though and Peter gave us a real insight into historical and modern Russia and was a brilliant guide. If you're in town do take one of his tours. I tend to usually go for aimless wandering and getting lost in a town with a little help from a guidebook, but it's well worth getting this kind of individual attention and assistance. A real highlight of our trip and nice to be giving money to a small local business as well.
I didn't get much work done, but this is all adding into the mix and I might head to the Yusupov Palace cafe tomorrow so that I can say that the first pages of my play were written within metres of where this murder took place.