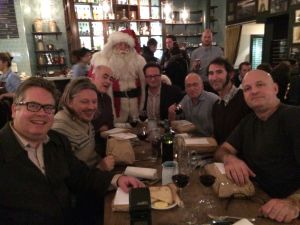 4043
I had a meeting at Caledonian Road and afterwards walked into town for the annual meet up and dinner of my University pals. As I approached the pub we were going to impressive lightning flashed in the distance and rain started to fall. Was it a portent of something approaching from another dimension?
We were dining at the slightly posh (for us) Newman Street Tavern. There was a man on the door to repel revellers who did not have a reservation. So whilst all the other pubs in the area were heaving, it was relatively quiet in this one, though I had two hours to wait until our table was ready. My friends started arriving one by one and we squished into a corner and chatted about the usual rubbish about getting old and who would be the first to die. This year we were not joined by Tony who is working in Australia (and apparently doesn't think that the meet-up is important enough to warrant taking a flight) and Stewart who is recording his TV show. The latter was particularly disappointing, as he usually brings us all presents (all the books and DVDs and CDs that he's been sent to review over the year, but doesn't want to keep). It was selfish of Stew to put work above giving his friends presents. We never give him anything back, but that's hardly the point.
But about fifteen minutes after we'd sat down for dinner the doors opened and Santa Claus entered. He wasn't one of these cheaply dressed counterfeit Father Christmases you see in cut price grottos and Christmas parades, this was the real deal. Plush red suit and impressive beard. We assumed that the pub had organised a little surprise for all their diners, but Santa homed in our table and started talking to us. It became apparent that Stewart Lee had used his TV millions to hire out the real Father Christmas and get him to bring us our 2013 gifts. It's amazing that Santa had the time for this so close to his big day, but I suppose he has to fund the present buying and elf-food etc somehow and has to take the odd corporate. It was a genuine moment of wonder and fun and to be frank, much better than having grumpy old Stewart Lee with us. But at Christmas even his curmudgeonly heart melts and he does something lovely like this for his friends. Even though we are all in our mid-forties the sight of Santa bearing a heaving sack (and making a few choice euphemisms) was genuinely uplifting.
Some of the others said that it wasn't the real Santa and one boy said he thought he recognised him as a man who'd once lived opposite him, but I don't believe them. Santa has slipped through the crack in the sky caused by all the lightning and come to deliver us a load of second hand and obscure tat from Stewart Lee's review bin.
The other diners in the slightly posh pub were maybe non-plussed, though one or two of them joined in with our applause for Santa. I think they were just hoping that they would get a present as well.
We had felt older than before as the night began (and of course we were, but this year we can not really deny that we are now properly in our middle age with no way of returning to our youthful glories), but meeting Santa showed there was something young within us all. He headed off into the night. Was that a sleigh I heard taking off into the air? No it wasn't.
As I stumbled home after midnight in Shepherd's Bush, two young women were approaching, bravely bare-legged in this winter chill and dressed up for a party (they were probably just on their way to it, because they were cool). "Nice bag" said one of them, indicating my manbag. Perhaps Santa had turned back the years and I was no longer 46 and they were flirting with me. "It's meant for a woman, though," she added, cackling at me. But I was in such a good mood that I just laughed too. I was not going to be upset by her attempts to gender stereotype me. Men can have bags now too if they want and in any case I am comfortable with and proud of my feminine side. I had been visited by Santa and nothing could undermine me today. I let the heckle go and did not unleash the many, many responses I could have employed to make her feel small. I took the joke on the chin and enjoyed it and exhibited good will to all men (and especially to young women).
I wonder what supernatural figure will be sent to visit us next year.

Good news for those of you with Netflix, they've just added Christ on a Bike and Hitler Moustache back to their roster. And don't forget The Headmaster's Son and What Is Love, Anyway? are also there. You can watch them all for free if you sign up for a month and then leave!