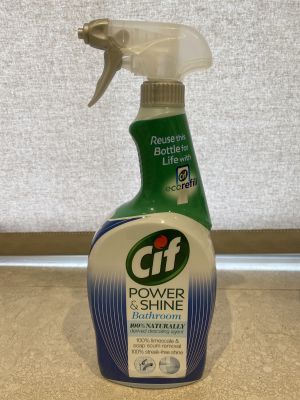 6624/19544
Opposite of yesterday - totally knackered and useless all morning and uncharacteristically angry with the kids' antics over breakfast. This in spite of waking up to the smell of fresh cooked bread.
But parenthood has taught me that bad moods are nearly always down to lack of sleep so after a brief nap I managed to finish off a Peter Dibdin sketch and do a few bits of admin, before trying to occupy the kids for a couple of hours. I kept them in check with the promise of a kinder egg each. The apple doesn't fall far from the tree.
I took a look at my nearly empty Jif bottle in the bathroom today (I will never call it Cif, so don't make a fuss. I'll start calling it Cif when you start saying, "I'll be ready in a Ciffy," or "I just Cizzed up"). I noticed for the first time that at the top it says "Reuse this Bottle for Life with Jif (NOT CIF) ecorefils".
Now don't get me wrong, I applaud the innovation of having refills for your sprays etc in order to cut down on plastic waste. I have used them a few times myself, and though there is a risk of seepage when pouring in the Jif from the pouch into the bottle, I think it's worth the risk to save the planet. I just think that the idea that I might be using this bottle for the rest of my life is a little unrealistic. Does Ian Jif genuinely think that in 35 years time, the 88 year old Richard Herring will be reaching for this same spray bottle? If he does then he is living in a fucking dream world.
It should just say "Reuse this bottle a few times with ecorefills, after which point, you know and I know that the slightly complex spray nozzle will have broken after repeated unscrewings and rescrewings of the lid. That's still better than buying a new bottle every time. Also, let's be realistic, some of you are maybe 18 years old and might live for another century. Will Jif even exist by then? I can guarantee you we will at least have changed the name, because we have form for this kind of thing. Maybe it will be called Bif or Spaff or Fuck. Who knows? We have no respect for your memories or loyalty. Will the ecorefills still be available? Will people still hafve bathrooms and kitchens or be living hand to mouth in a post Apocalyptic nightmare? There are too many parameters here to make a claim like this. If you get five uses out of this bottle you have done fucking brilliantly and can pat yourself on the back. If you really care about the planet then maybe buy a spray that makes bigger eco claims for the content of the bottle and not just the bottle."
Maybe they wanted to put that on, but they couldn't fit it all on there so went for "Reuse this bottle for life."
But why stop there. Hand it down to your children as an heirloom and keep this thing going for as long as possible. I now regret that I will not live for another 100 or 200 years so might see the last of these bottles still in use. Someone is going to do it. It could be you.
Seriously reuse and recycle your plastic as much as possible. But set yourself realistic targets. There's a danger if you think that a bottle will last a lifetime that you might have to mourn its loss long before then. And that will hurt all the more, given the expectations of the slogan.
Was good to get back to self-playing snooker after a fortnight's hiatus. If you want to see who won between Teenage Me and Northern Me or Welsh Me and Meninist Me t
hen watch here
40 have become 24. And soon we'll be down to the last 16.