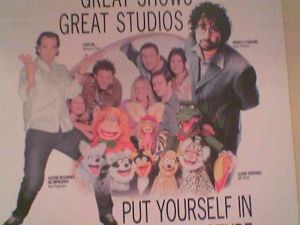 I was back in Teddington studios recording three more episodes of the daytime nostalgia quiz "Back in the Day". It was reasonably easy work and really good fun, with top panellists Jeremy Hardy, Su Perkins and Paula Wilcox from off of "Man About The House". Swit swoo. I wouldn't say no. But only if it was all three of them together as a package.
I became slightly enchanted by this poster (pictured - sorry it's a bit out of focus) in the green room which was advertising the Teddington studios, which selects a few of the shows that have been put on at this great location and which aims to encourage you to put your show on here too (a little redundant perhaps, given that you are presumably here already doing a show if you are looking at the poster). It's got Alistair Macgowan, the cast of Coupling, David Baddiel and some puppets on it, as you can probably see.
What amused me though was the idea that all those featured were actually doing one programme together. It was fun to imagine what such a programme might be like and what would happen on it. Mainly for the value of David Baddiel having to interact with those puppets if truth be told. I am talking about the cast of Coupling. Ha ha, I am funny. No actually I am talking about the animal puppets.
I think it could be one of the most amazing show on earth and am quite keen to put a pitch together. But I don't think it should be a comedy show. I think it should be a high budget drama, tackling challenging issues like abortion and spousal abuse. But in a world where humans and talking cartoon animals live side by side and are equal. The animals are just as serious as everyone else in it. The title I have come up with so far is "David Baddiel, Alistair Macgowan, the original cast of Coupling and some puppets in a serious drama tackling issues like abortion and spousal abuse." I will probably try to think of something a bit less catchy and commercial for the treatment though.
I hope I can get everyone on board to take part in this as I think it could make revolutionary television. And also I really want to see David Baddiel having to interact with puppets. If the others won't get involved then I might just make it about David and the puppets. And possibly make it a sit-com. But one that tackles quite controversial and heavy issues like abortion and spousal abuse. Maybe the monkey puppet is married to the crocodile one and falls pregnant, and is worried about the half-breed chimera that might be produced by such a union so tries to have a secret abortion, but the crocodile finds out and bites her in the face... with hilarious consequences. And then at the end approachable David Baddiel sorts out everyone's problems and explains why wife-beating and biting is bad and why it is a woman's or a monkey's right to choose what happens to its own body, whilst acknowledging that many people find the practice morally offensive. And then he trips over to break the mood. If Alistair Macgowan is in it he could stand behind David Baddiel doing an impression of everything he does in the whole show.
I think it's a winner. No wonder I'm in such demand at the moment. I'm red hot with ideas.