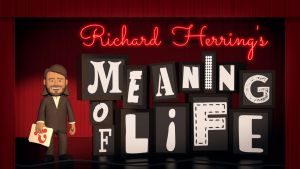 4072
My 98th Metro column came out today (spoiler alert, this material is also going to be in Meaning of Life episode 2) and this morning I wrote what will be my 100th piece for the newspaper. That doesn't seem possible. It doesn't feel like that many, nor does it seem like practically two years since I started, but mainly I can't believe I have kept a job for this long. I would usually have said the wrong thing and got sacked by now. But even though I have tried to say the wrong thing and filled my columns with filth, they still continue to employ me. For now. Wait til you see what I said in column 100!
But that's 60,000 words written for them, enough to fill a book, which just shows that you only have to write a small amount each week and you can create something quite substantial in a short time (though not necessarily any good). Whatever you do with the rest of your time, if you can get down just 500-1000 words a week, you too can have written a book in a couple of years. And in this day and age you can publish it yourself. It's a brave new world. Oooh, I might write a book about that. What do you mean someone else has already done it?
And finally the exercise and dieting seems to be paying off, after quite a long plateau. I have lost 3kg since the beginning of the year, taking me down to a weight that is still 6 or 7kg heavier than I was 18 months ago, but that's a good start. It all comes down (as I have always known) to exercising and keeping careful count of my calorific intake. Today we were having the in-laws round for dinner and I knew I would be eating more than usual, which really spurred me on to do extra exercise at the gym. I managed to turn the 400 calories I had left into over 1000 (still not quite enough to cover the cheese at the end of the meal, but close). Keeping up this level of commitment will be hard, but I do feel determined at the moment and glad I weathered a tricky week of doing everything right and seemingly getting no reward. The natural impetus is to think, fuck it, this isn't working. I might as well not bother, though that is of course illogical. The logical response is to realise you have to try even harder, but being human beings we tend to leave rationality behind and say "If I am not losing weight on this diet then I might as well go back to eating as much as I can."
Things are about to get extremely busy for me and I am not sure I will be able to dedicate quite the same amount of time to running, gyming, walking and swimming, but we'll see. I am looking at all the things I have to get done in the next week (I am doing Just a Minute tomorrow, my first 2014 tour show on Sunday, Radio 4's A Good Read on Tuesday - I have to read 3 books for it - am presenting a new radio show for a new radio station at some point before the holiday and have to get Meaning of Life 2 into shape, as well as sort out guests for the upcoming podcasts) and though that is rather daunting, I feel pretty calm about it. Stupidly calm in fact. Like someone who doesn't really understand how much work there is to be done. But fuck it, all of these things are really good fun and the ones I get paid for will help fund the ones I don't. I am happy, healthy and people want to employ me and I've held down a job for two years and hardly upset anyone in the process.
My only worry is about when I will fit in the next frame of Me1 Vs Me2 Snooker. Obviously that should take precedence.
At dinner my mother-in-law told me that she'd been reading my blog about swimming pool etiquette and revealed that she was one of the people who didn't think it was necessary to follow the arrows if there were only two people in the lane (at least, she conceeded, she did ask the other swimmer first). It is no wonder my wife has turned out how she has. I can't blame her for her terrible crimes when she has been indoctrinated from birth by these monsters (I don't think that is hyperbole). My mother-in-law admitted that her cavalier attitude to the law of the pool had led to her experiencing exactly the scenario I had envisaged of coming down a lane in the wrong direction, doing backstroke, unaware of the new person in the pool. When will the world learn?
But I like to divide the lane into two lanes if there are only two swimmers, I hear you whine. Well in that case I like to do widths when everyone else is doing lengths. Or I like to swim in diagonals from one corner of the pool to the other. Oh, sorry, you think that's inconvenient for the other swimmers. Yes, you are right. That is why we can't just do what we like in the swimming pool. You must obey the rules.
The conversation left me cold. What if my wife and I spawn a child of our own? What system will he or she follow in the pool? Will our sexcrement inherit the anarchic ideas of my wife and her forbears, or the sensible and correct law-obeying Herrings? This is really something that I wish I had known about before we got married. I think I would have to disown any child who didn't follow the arrows regardless of how many people were in the lane. I would leave them on a hillside to fend for themselves. It's pretty simple folks. Even after my mother-in-laws experience of how her blase attitude can all go wrong the rest of the family still laughed at me as if I was some kind of obsessive and wrong idiot. What have I married into here?

Meaning of Life episode one is taking shape with the theme music and the opening titles pretty much completed now. As a little teaser here's a still from the titles (a slight upgrade on what we had before). There is still some editing to do and a bit more work on the animated sketch, but we might have something to show to the world by the end of the month. If you can't wait then there are still a few tickets left for the next recording on the 26th January at the Leicester Square Theatre. Only £10. My guest is Professor Richard Wiseman who will be chatting about the Paranormal with me, plus loads of stand up, messing around and a chance to win some prizes.