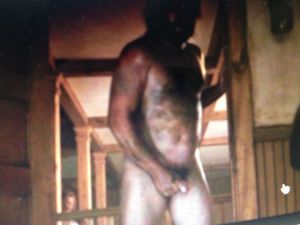 I am rewatching the first few episodes of Deadwood. This can ostensibly be classified as work as the new script I am writing is partially inspired by it or at least by the spirit of it (it will be quite different, though I am hoping to make a couple of nods). Alas the script is not Jedward Deadwood, in which the original series is remade exactly as it was, with the same actors and script, but Jedward appear in every scene, as themselves, adlibbing whatever they want to say and do. But that will be next.
One of the enjoyable things about watching a series that you've already seen a few years ago, is that in the interim some of the actors playing smaller characters have found stardom elsewhere. So I was surprised and delighted to see Ron Swanson from Parks and Recreation (one of the top ten sit-com characters of all time) appearing ina doorway with no trousers or underwear on, holding his penis as he celebrated having sex with a prostitute. It actually took me a while to realise that it was him and so I had to rewind the tape to get the special pleasure of seeing Ron Swanson waving his cock around. It's something that he's unlikely to do in Parks and Recreation, but if he ever does then you can be pretty sure that the writers will have run out of ideas. Perhaps "Jumping the Shark" will be replaced with "Waving Ron Swanson's cock." I hope so.
Nick Offerman is a grower not a show-er if the publicity shot on this website is anything to go by (scroll down. NSFW) Thanks to cock-loving Dan Tetsell for discovering that.

I had my first gig since the Fringe tonight at the excellent Old Rope, where comics try out new material every Monday. I was headlining so didn't have to do new stuff, which was lucky (though I tried to discuss the old man getting a blowjob on the railtracks in Italy - which I also wrote up as a Metro article today), but I had real difficulty remembering any of my old stuff. It's only been three weeks since I last gigged, but my brain was as rusty as Hell. I managed to do the first few minutes of We're All Going To Die! But then I was not only unable to remember what came next, I couldn't even think of a single bit of material that I have ever done. It felt like I was floundering around for a minute, but it might have just been a few seconds, but my mind was a total blank and I even thought I might have to stop. But then the pilot light reignited and I did a few old jokes before rolling out the Railways and the Holocaust bit, which I did remember (but to be honest only because I'd made a point of listening through to a recording of it this afternoon). It's amazing that a show I did pretty much every day for a couple of months could now seem so unfamiliar, but I am sure it won't take too long to get back into the flow of it. I am going to have to as the tour starts in Braintree on 1st October and then I am doing my London run the week after that. Do book ahead cockerneys (I promise to have learned it by then - and to have added more material). And the rest of the tour dates and details are here. Reading has already sold out, so don't leave it too late to book. This is a shorter tour than usual and I doubt that many more dates will be added, so apologies if I am not coming to your town this time. Maybe next.
There were loads of great acts at Old Rope, but I was particularly impressed with someone I'd not seen before, Chris Turner, who had some very good lines, but with the added poignancy that he'd split up with his girlfriend of five years, four days ago. He's really one to watch, with some sharp gags, but a great turn of phrase too. The way he compared love to a bottle of hand soap was poignant and brilliant. See him if you get the chance. I think he's going to be big. He also improvised a very impressive rap, something I later threatened to do as well, but that would have been comic for all kinds of different reasons. "I am Richard Herring and I am 46, I make my living by talking about dicks...." and so on.