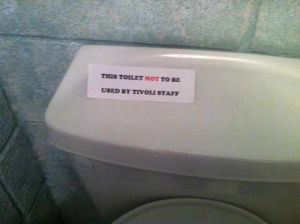 Back to the Tivoli theatre in Wimborne today. It's a big venue in a small town and I have never caused any work for whoever has to clean up the 250 seats at the back of the room, but numbers are much healthier than they were when I first came here.
I've been here a few times, but touring plays tricks on the mind and I was certain this was a venue where there was no parking, so when I arrived I unloaded all my stuff into the front whilst parked on double yellow lines. It was only when the car was empty that one of the staff asked if I wanted to park in the car park. I still assumed that he wanted to direct me to paid parking, but eventually I remembered that there is a car park behind the theatre for staff. I don't know which theatre I had thought I was at.
I had also been told to get there at 5pm because they were showing a film at 6. I thought this was a bit odd, but hadn't worked out that that would mean it was a very short film or I'd be starting late, but it turned out the message was entirely wrong. I was not to get there until after 5 because they were showing a film in the afternoon. That made more sense. If I had been here a bit earlier I could probably have watched War Horse for free.
I was given the key to the dressing room and told that I had to make sure I gave it back at the end as it was the only one they had now, as Kenny Ball had been here recently and not given his key back. I was pretty astonished to hear that Kenny Ball was still touring. I was actually quite surprised to find out he was still alive. But he's still out there and strutting his stuff (and then stealing keys) in his 80s. This made me very happy.
Though when I went on stage I did worry that Kenny Ball might take the opportunity to get into my dressing room and steal my laptop. Perhaps the whole decades long career in Jazz has all been a front for a sophisticated dressing room pilfering sting. Who would suspect Kenny Ball? No one.
The dressing room toilet had a sign on top of it saying, "This toilet NOT to be used by Tivoli staff." That wasn't something I've seen before. It implies that the theatre has had a problem in the past with the staff doing something unspeakable in the dressing room toilets, but also that the staff are forgetful. Just telling the staff not to use the toilet or sending around a memo would not be enough. They have to put a sign on the loo because the staff might get that far without recalling the instruction. They might have their wee pipes (or poo shoots) out and ready to go, but luckily the sign tells them to get out. This toilet is only for the use of big stars like Kenny Ball and Richard Herring, so get your pipes and shoots out of here and go and use your own facilities. Someone on Twitter suggested that all the toilets at the Tivoli have this sign, in an attempt to increase the bladder retention of the staff. Who knows?
I think that the sign is only there for the benefit of the kind of prima donna stars who want to know that their toilet is only used by them and other people as famous as them. They don't want the buttocks or excretions of a normal person touching somewhere where they are excreting. Though if that was the case I think the sign might read, "This toilet is not to be used by Tivoli staff. Or Richard Herring."
I had to work hard on stage tonight as the audience was a bit spread out and the ceiling was high and it was hard to hear the laughter (though I could see faces looking like they were laughing, but maybe everyone in Wimborne just mimes everything). But I didn't let it get to me and I think it went OK.
It feels like there's been twenty-something gigs to go for ages now (an illusion partly explained by the fact that three new gigs got added last week) but after next week's jaunt up to Scotland and back I will be down into the teens.
And mileometer fans will be glad to know that today I passed a landmark favoured by all roadies and mic testers, when my car passed the "121212" mark. But as always I just missed seeing it. I had bloody well better be alert when I get to 123456. Will it happen this tour?
I am taking part in Twit Relief again for Comic Relief and there's an amazing prize on offer for whoever pledges the most cash. And I don't mean amazing as in great, I mean amazing as in, what the fuck? After the last AIOTM (aiotm) finished I took the cumpkin mask and the jacket and shoes that I was wearing when covered in a mixture of (hopefully) flour and water and put them in a bin liner. Maybe I should have taken the next logical step and put that bin liner in the dust bin, but I didn't. I kept it. I was sure that one day some insane fan would part with hard cash to get his (or her - no let's face it, his) hands on this stuff.
So it's been festering in the bin liner for a year and now it could be yours. Just go and bid at
the Twit Relief website
. There are better prizes available from proper celebrities, but there is nothing grosser - except perhaps the tickets to "We Will Rock You". Please go and bid and if the price gets higher I might also include some stuff that won't give you botulism. @sendasigh liked the fact that there was a link on the ebay page to "Sell one like this". Yeah, don't think that's likely.
And I do hate to talk about all my charity work, but my family are being held hostage and will be killed unless I mention the fact that I am taking part in an unbelievable line up of comedians at the Hammersmith Apollo on May 20th and it's all for SCOPE.
Book Now
. I think Sally Phillips and me are going to do a live Stewart Lee-less version of "The Girl Who Smelt of Spam".