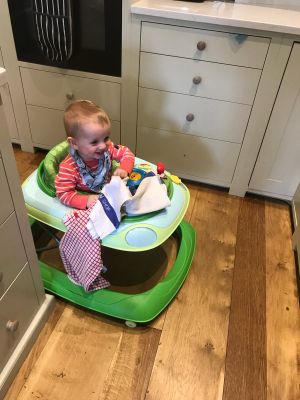 5714/18734
My son keeps stealing tea-towels and waving the around laughing like he's won some big prize. They're tea-towels mate. You look like an idiot.
I love his little car though and so does he. My favourite thing is how he looks over his shoulder when he is reversing.
Twitter was abuzz with the news that Prince Phillip had died, but the news wasn't going to be officially released until 5pm. But unofficially they decided to release the info to a load of dicks on Twitter, trusting them not to say anything about it. They won't do that again.
Much as I love the idea of all journalists dutifully waiting until the appointed time and refusing the scoop, it seemed unlikely. Also Prince Phillip can not die until all the non-racists are dead. So not long now.
Anyway, he's still alive. Or they're keeping him on ice. Probably didn't want to ruin our weekend. How would any of us party if we knew Phil was gone.
We watched Get Out tonight. I know I'm a bit late on this one, but it's hard to get out when you have kids. Get it? Its hard to "get out". I haven't lost it.
It's a brilliantly put together and acted film, funny, suspenseful, surprising, haunting and terrifying. My wife went to the loo midway through and I paused the film, Suddenly I heard a weird devilish or child-like voice coming from somewhere. As you know, my house is definitely haunted by the ghost of a dead baby, but this was a new development. Was the voice coming over my son's baby monitor? It sounded like it to begin with. But then I realised that it was coming from our downstairs loo.
"Catie?" I said, but there was no reply from her, just weird chattering and laughing from the ghost. "Catie, what's that noise?" I asked, a bit louder, but still all I heard was the demon that had presumably already killed and eaten her. If I had had a gun I would definitely have unloaded it through the door at this point in order to try and murder Satan. But I was going to have to take him on, as I will with Piers Morgan, with my bare, tiny fists.
It was pretty unsettling that the noise was continuing and my wife was not responding. Then the door opened and she emerged unscathed and seemingly unpossessed by demons (though to be fair it would be hard to tell the difference) and claiming she hadn't heard me and apparently not freaked out by the devilish noises that were coming from the loo she'd just been in.
It turned out a friend had come round this afternoon and given Phoebe a gift of some hand soap in a Minions-themed dispenser, that played Minions laughing and chatting every time you used it or moved it. I am not clear why my wife was playing with it or using that soap rather than our non-Minions one. I suspect she was just trying to shit me up. I am pretty convinced she's only pretending to be into me, so that she can kidnap me and turn me into her slave. I don't know where I got that idea from.
And though the Minions soap dispenser does seem to be the most likely cause of the weird sounds, it might just be a coincidence. I still believe in the ghost baby. At the very least it might have been him who was making the soap dispenser talk.