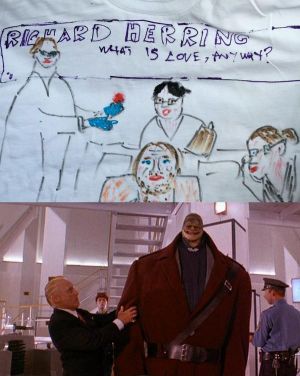 4654/17313
I spent pretty much the whole day trying to learn Hitler Moustache, whilst simultaneously drawing the remainder of my bizarre T-shirts for the 29 people who bought the 12 show combo ticket. There's something very therapeutic about it. I want you to know I really did my best, so even though I made myself look like a squashed Noel Edmonds on the Happy Now? one and apparently according to @TheGeekyComic I had made my wife look like Goomba from the Super Mario Brothers movie in the What is Love? one (all my choices are deliberate of course - as I've said before you have to be a truly great artist to paint in this naif style).
You can see most of the T-shirt designs (some horrific, some weirdly ok) in the downloads section. You're going to regret not taking part in the offer. These will clearly be worth millions one day.
I forgot to take a photo of a few of them, so if you received one of the following T shirts (or if the one you have doesn't appear in the gallery) could you take a picture of it and tweet it to me or email it to herring1967@gmail.com. I think I need, two versions of original Christ on a Bike poster (without second coming tag-line), Happy Now? Oh Fuck I'm 40 and What is Love, Anyway?
I did two versions of most posters (though branched out into the Talking Cock tour poster) and accidentally did three of Lord of the Dance Settee (which I think means I have one too many T-shirts in total so there may be one up on eBay). If you are one of the lucky winners who bought the discount ticket to all 12 shows then you should be able to pick up your shirt at the kiosk in the foyer this weekend.
I had a mini lie-in (until 8am) and felt a million times better for it. I even almost went for a run. I didn't, but that's till a good step forwards. I have lost a lot of fitness in the last six months due to fatigue and parental responsibility, but hope to soon get back to my healthy ways.
I previewed Hitler Moustache tonight and though I had to make use of the script (and on this one my brain seems incapable of getting anywhere near knowing the order of the material), it went pretty well. Oddly for a comparatively recent show it is perhaps the most dated. It's all about the danger of the BNP who now no longer have any influence (because of my show? Almost certainly), but the arguments still hold good (there are some nice calls for both complete freedom of speech and political correctness, which will confuse those that think those two things don't go together). It's a rather didactic second half, but there's still lots of funny stuff in there. Whether I will remember enough of it is another matter. But I like the way that each week follows the same progression of me beginning thinking that there's no way I can will be able to learn all the material, getting to Thursday and surprising myself with a semi-successful stagger through, realising I don't know the second half on show day, but somehow blustering through. I am slightly terrified to realise that I only have two more previews in total now - I am away on a mini-break next week and hoping that the more recent shows will come back to me easily. I have no idea what the new show will be like, but hopefully I will be in the friendly and encouraging environment of the previous shows and we'll have a blast.
And if you're interested in the league table, Happy Now? has now leapt into the lead, and Love and Die are fighting it out to avoid the wooden spoon (it's been back and forth). Headmaster and Hitler are looking like they should break into the top 5, but how far can they go?
1. Happy Now?
2. Someone Likes Yoghurt
3. Oh Fuck I'm 40!
4 The Twelve Tasks of Hercules Terrace
5 Christ on a Bike
6 Talking Cock
7 menage a un
8 Hitler Moustache
9 The Headmaster's Son
10 Lord of the Dance Settee
11 We're All Going To Die!
12 What is Love, Anyway?
You can back your personal favourite and get them up the chart by buying a ticket (though not sure you'll be able to do that for shows that have finished -and if you'd want to then you must hand control of your bank account to a responsible adult) .
I'd say Happy Now? is the only one looking likely to completely sell out. You can currently still get the discount for six shows if you book for all the remaining ones (or for three or more). Be lovely to see you at one if you can make it (get my favourite show off the bottom of the league, please!)
Plus it's the halfway point of the RHLSTP campaign. We're up to about £22,000 with just 15 days to go, needing another £28,000. Hopefully there will be a late spurt to get us over the line, but if not, thanks for battling hard for us. Donate here.
The podcast with Jessica Hynes is now up on audio here.
And on video here -
And there's also a new Twelve Shows of Herring podcast.
And a new Me1 Vs Me2 podcast out on Friday too.