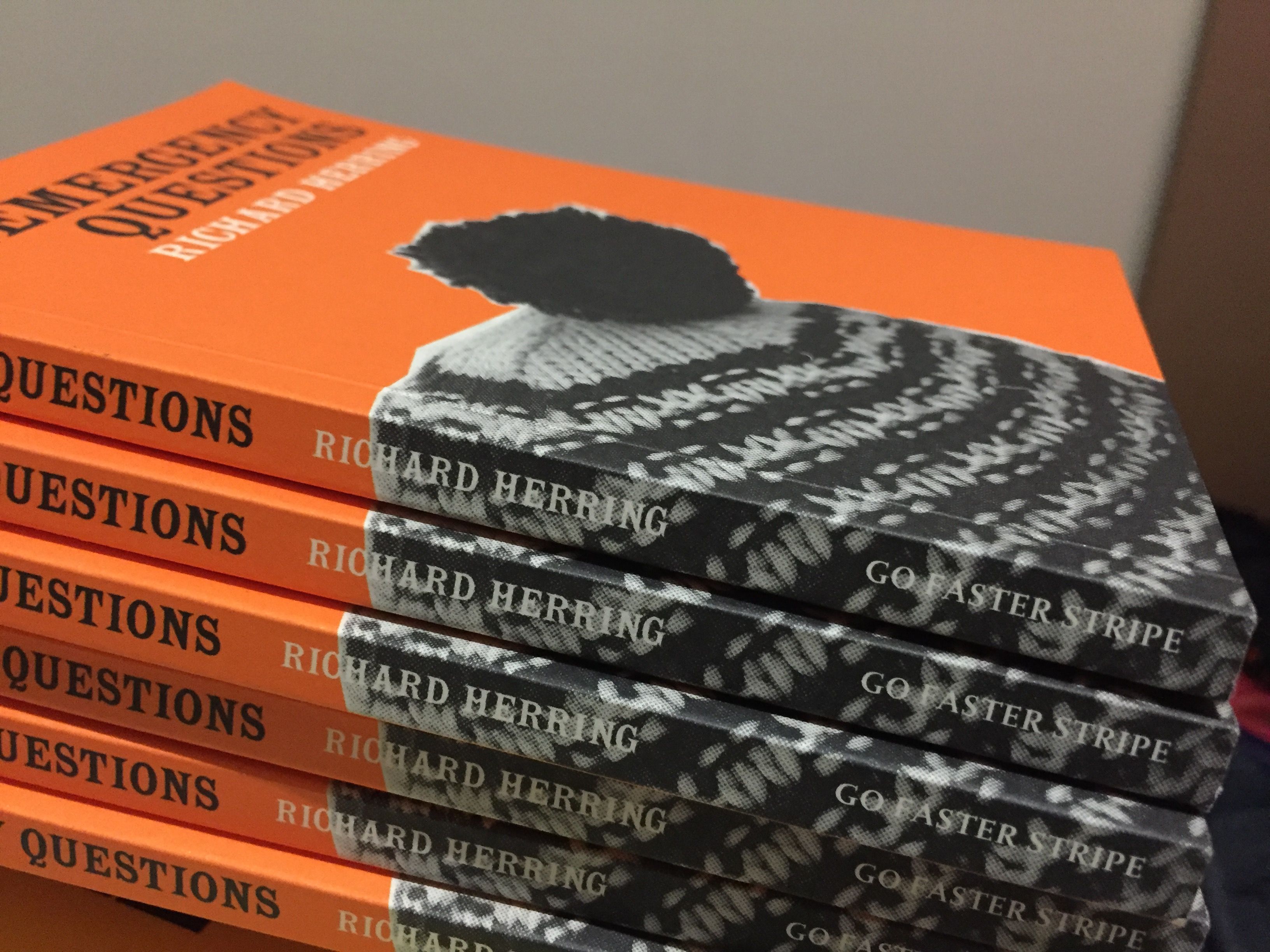 5294/18214

I went out to the new (old) house today to drop off more boxes of my junk and see how all the work was going. There's a lot to do and we're at the stage where everything has been ripped apart before it's put back together. It still hasn't really sunk in that we're moving (probably at the end of next month if all goes to plan).
I walked over to the local cafe to get a pot of tea. The sun was shining and the five minute walk took me through fields of beautiful horses. That's a bit different than the Uxbridge Road. We will find out soon if we have made the right life choices, but today, in the sunshine, in the countryside, near the horses, just 2 minutes walk from my front door… it felt like a good decision.
And my copies of the Emergency Questions book had been delivered to the house too. It turns out promising to produce a book of Emergency Questions as a RHLSTP kickstarter reward was a much tougher job than anticipated. I knew it would be hard to write it (and actually did that part a bit quicker than I had guessed), but then came the need to design it, proof-read it, send it to the printers. It took ages. Mainly because we wanted to make sure that it was really good. And it was worth the wait. Today, for the first time I held one of these orange little fuckers in my hands and I have to say it's a thing of beauty (and if Keats is to believed, a joy forever). It might be the most consistently amusing and concentrated piece of comedy I have ever produced.
Of course the work is not over. Chris Evans (not that one, or that one or any of the politician ones) has to post 253 of them out asap and I have to sign 350 more and write an extra exclusive emergency question in 228 of them. I started on that task today. I signed all 350 and wrote Emergency Questions in almost 50. I actually really enjoyed it. Will you get a fun one or a dull one? Both are as good as each other in my opinion. But if you paid that bit extra you should end up with quite a collectors' item. Especially if Emergency Question books become as popular as Harry Potter ones. First editions of those go for tens of thousands of pounds and JK Rowling didn't even write an exclusive extra bit of story in the front of any of those.
The books will fit in your pocket and can be used in a huge range of social situations and will make an excellent game to play with your mates or by yourself. I have tried to get a real publisher interested in this as I think it works for fans of the podcasts and people who have never heard of it, but so far, no dice.
We have some more to sell, but probably won't be putting them on line until all the kickstarter ones are sent out. It'd be nice to think that all 200,000+ people who watch or listen to the podcasts (or some of them) bought a copy. We'll be ploughing all the money back into making more content, so for the £10 price tag you're getting 100s of podcast past and future and a really funny book. And we would have £2 million to use to make more comedy. As it is, we're hopeful we can sell the extra 2500 we ordered and make a dent in the budget of series 11 and 12 filming.
The bobble hat has no real significance by the way, we just wanted it to look a bit retro and were influenced by that kind of book from the 1970s which discussed some kind of activity or hobby. But if you buy ten books and pile them up you can fool people into thinking you have your own 3 dimensional bobble hat. And I'd love to see you buy a bobble hat for less than £100.
Also I am giving away 349/350 with additional question as part of this month's monthly badger monthly draw (along with loads of cool stuff - youtube video coming soon). So if you want to be part of that and all future draws,
get a badge and access to our secret channel of bonus backstage interviews and more then sign up here
You know you've been meaning to. Imagine if all 200,000+ people did that too, rather than about 1% of them! £12 a year for 40+ podcasts, 365 blogs, all those twitter posts about November 19th…. And the money just goes towards making even more content. I am like Jesus. If he'd left the family business and been more obsessed with spunk.
I also started work on the 40 or so T-shirts that I promised to create by hand for kickstarter backers. I mean, I should probably be concentrating on writing the new show that I am doing the first try out for on Saturday and which I have about 2 minutes of material for so far, but making T-shirts is more fun.
Thanks for your patience on this kickstarter reward people. It will be worth the wait I promise. Not so much for the T shirts which look like an untalented four year old drew them.