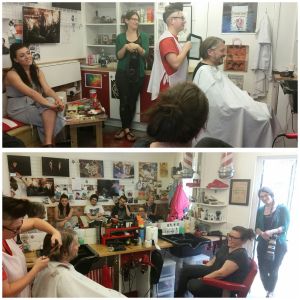 4987/17907
Back to Dalston to do another small Tempting Failure event this afternoon. This time I was going to be interviewed about my artistic vision (or about my stupid jokes) whilst having my hair cut in a supercool gender neutral hairdressers called Barberette - http://www.barberette.co.uk/. Not many people showed up for the 4pm interview (though there was only room for 10 in the tiny two seat hairdressers shop any way. I chatted to Hannah Moore (who has the same name as the educationalist who worked in Cheddar in the 18th Century which is good enough for me) from the festival. We covered my play, I Killed Rasputin, ham hands, the importance for comedy and art to be allowed to offend and where I get my crazy ideas from, whilst Klara snipped away at my barnet and trimmed by eyebrows (because I am now old). She threatened to shave lines into my eyebrows and take off all my hair, but in the end gave me probably one of her more conservative cuts, which I liked very much.
I've enjoyed being part of this festival, even if I don't quite fit in (but then again, I really do fit in in lots of ways). They recorded the chat, which will be available on the Me1 vs Me2 DVD and also on the secret channel for monthly subscribers.
In other news I took my rubbish iPhone into the shop yesterday because the battery life was so crap and also the mute button had stopped working and all the calls I got were too quiet. They sold me a new phone at a reasonable price (because that was cheaper than the repairs) and I took it home to sync up with my iTunes. I was pretty sure that I'd been regularly syncing my phone up over the last year, but it turned out that I hadn't. Even though it had backed up yesterday on the cloud, I backed up on iTunes which was holding a version of the phone from 2015. I was sent a year back in time. All the photos from the interim (and messages) were gone (though luckily all on my computer) and loads of old apps were back and all in the wrong place. And then none of them wanted to load up properly, so today I had to delete half of them and then download them again, which worked but was time consuming.
But it was odd to take this little journey back in time. My screen saver is once again my tiny daughter as an ewok. It's strange how affecting even a little jump back in time can be.
Phoebe was lots of fun today. I think she was a bit annoyed with me that I had been away a bit and was giving me a bit of a cold shoulder. But then I started tickling her and we had a minute of fun. But then she remembered that she didn't like me, stopped laughing and totally blanked me. Her demeanour changed in a second. It should be a heart breaking snub but I am loving seeing her developing into a human being with feelings, joyous and hurt. She's getting very close to talking I think too. She has a few words (and understands a lot more) but she's blabbing away and I think it's only a tiny tune-in before that comes out as little sentences. By bath time she was my friend again. I am having such fun with this crazy idiot. She also made a brilliant tower out of her little boxes today, balancing a tiny one at the top and only causing it to fall when she kissed her handiwork. How awesome is that?
In a week we will be officially on holiday. We're going to Devon for my dad's birthday and then after that to America to see some of my wife's family out there. It's going to be such fun spending all my time with this happiness engine and hopefully I will get less of her slights (though she might like me less if I am around more). We are so lucky to have her.