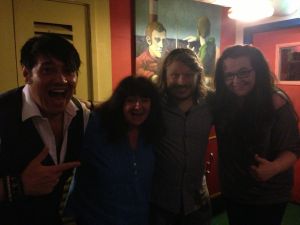 Hey, how do you like the new website design? Hobbit king Rob Sedgebeer has been beavering away for months to create it. Hopefully everything is a lot clearer and less cluttered and easier to read. Thanks to Rob for all his brilliant work.
I was feeling pretty wiped out today, though luckily Janey Godley and Ashley Storrie were in loquacious mood in the podcast and I didn't have to do too much work, but enjoyed listening to their stories. I wasn't really in the mood for the gym afterwards, but forced myself to go and then actually ended up doing 45 minutes of cycling, having distracted myself with an exciting game of Monopoly. I notice that after less than two weeks here, my trousers are much looser and I am thinner by almost two notches on my belt. The Edinburgh Healthr Farm is doing its job. Though I fear that fatigue may encourage me to eat more.
My days are filled with stuff though and there's not much chance to get a break with podcast uploading and coin counting and bits of publicity taking up most of the little free time I have. Another fairly solid show today, again about half full which is fine, though I am hoping it will be a bit busier at the weekend. The reviews I've had have been good: tonight I got another five star review, this time from One4Review, leaving me with an impressive five star average from three reviews. It can't carry on (interestingly Steve Bennett from Chortle, who features in the show, was in yesterday, so we'll find out what he feels about his inclusion soon), but given it took me over a dozen Fringes to get a 5 star review at all, it's pretty extraordinary to start this way. And even if Bennett gives me one star for my impudence my average will still be 4!
Of course I would say this - as the reviewers all have good enough taste to like me - but the quality of writing in these reviews is good and the points made show proper thought. A few years ago sites comedians would have looked down their nose at an act who put a Broadway Baby review on their poster, but with the decline of reviews from newspapers, these internet and Fringe based publications have become much more respected, but also seem to be staffed by people with an understanding of comedy. The internet revolution has made them as important, if not more so, than the "proper" journalists. Most newspapers might have one reviewer who writes one review a day (if you're lucky) and given there are now hundreds of shows, only a dedicated team can hope to cover the Fringe properly.
I think this show is good and am glad that it's (so far) been reviewed well - even if it's a bit discombobulating, I am more used to reviewers not getting what I am doing - but other shows I've done, which were possibly better, did not always fare so well, so I am more than aware that a lot of this is down to chance. But it's obviously still good that it seems to being received well by the critics. Not everyone in the audience seems to agree. Tonight again, I think I had a couple of walk outs after the Railways and the Holocaust bit. Maybe they were just going to the loo, maybe they were just bored and I didn't want to make them feel bad because we're all entitled to our opinions and views. But the routine is really not laughing at the Holocaust - quite the opposite, it's trying to make us look at the way that sometimes it can be more offensive to treat a subject like this in a "serious" way. It's probably the stand out routine of the show in terms of laughter generated. Which may be why the people who don't understand that it's possible to laugh at a magazine about the Holocaust whilst still respecting the victims of that atrocity, get so het up. If you don't get the distinction and think that the word Holocaust should never be used in a comedy context then it might feel like you're in a room of maniacs. I may start to address this issue, but I am so pressed for time and there's the chance that I am wrong and people aren't upset by the routine, they just need a shit or think I'm shit or both.
After the show I rushed across town to catch a late showing of the Alan Partridge film. As much as I like to pretend I created this character, I can take none of the credit at all (Stew and me wrote some of the early lines for Partridge, but the character was entirely Steve's). I am a big fan of Coogan and this character in particular and was able to enjoy the show detached from my minor association with it. And the film is largely great, especially the first two thirds, with a stand out performance from Felicity Montagu as Lynn (getting puffed up and flattered by someone offering to bring her coffee). I had seen a lot of bits in clips I guess which slightly hindered my enjoyment in the end, but much of it bore repetition and I loved the claustrophobia and psychology of the siege. Loads of laughs and Partridge at his baffling, boring and brilliant best (and Tim Key also great as the side-kick unable to stop joking and smirking even in the midst of a hostage situation). In the last thrid it seemed to slightly lose its way, opting for some knockabout arse-baring and toilet humour which was classier than in most comedy films but still seemed to be a bit of a distraction. I only felt slightly disappointed by it. It's still a cracking film and a massive achievement to make something parochial and small work on the big screen so well.
When the credits came up though and I saw Patrick Marber credited as the co-creator of this character, it was hard not to feel a little conflicted and weird. I ahd been in at the start of this phenomenon and maybe informed it a little if not really contributed much. I wondered about the alternate Sliding Doors reality in which Stew and me (or even just me) had not pulled out of working on The Day Today (ironically enough because we were worried that the contract gave us no provision for ownership of characters that we had helped create). This was a massive disappointent for me at the time. I was very poor and rightly (as it turned out) felt that I was working with a team of people who would define comedy for their generation and Stew and me had been offered a writing commission of something like ten minutes a week. This would offer me unimaginable riches (probably about five thousand pounds over the series) and where might it lead?
My manager and Stewart were more adamant that we mustn't take the job than I was. I had a shaky relationship with Avalon at that point: they had taken on Stew and were only really representing me because most of my paid work came from the stuff we did together. I suppose I could have walked away from it all and been the writer on the TV show and then who knows where I might be now. But at the time, reluctantly, I agreed that the deal wasn't right and I had a loyalty to the double act that was in the process of forming and the writing partnership that we'd had over the previous five years. And ultimately I wanted to be a performer as well as a writer and knew that if I took this path then I would most probably only be the latter.
But it was a big decision which had an enormous impact on my life. As we left the cinema I discussed this with my wife and told her that I could be dating a Hollywood starlet now if only I had made a different choice. She said she thought I would be on my third marriage by now. I think she was trying to be withering, but I said, "Exactly, not just on one marriage, which is all I've managed so far."
I love the life I have and I love the wife I have and there would be no guarantee that I would still be working with Armando and the team had I made a different choice. Twenty-one years ago I did a show with Steve Coogan and now I am watching him in the cinema after dashing away from a venue just yards from where we did that show. It's bound to throw up mixed feelings and weirdness. A load of stuff happened to me as a result of the choice I made and a different load of stuff would have happened to me if I'd made a different one. It's just all a load of stuff at the end of the day. Hopefully there's a load of stuff yet to come.
I wouldn't mind Peter Howitt magically showing me what the other version would be like though, in a movie called "Slamming Doors" or maybe "Smashing Cupboards".
I bet in the other reality I would be a horrible prick. In this one I am proud of my friends and ex-colleagues. Apart from Patrick Marber who arguably (if you're prepared to argue in a slightly unfair and untrue way) had as much to do in the creation of Alan Partridge as I did. And at least in this reality the split meant I never had to work with him again.
It's all just stuff.