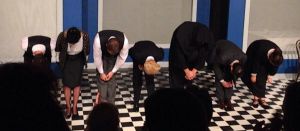 4261/17180
My job has its surreal and unpredictable days where I am asked to do some odd stuff. I am at the stage now where I usually get on with whatever I am being asked to do without question. This morning I was at a photographic studio, with my top off, having my picture taken for a glossy magazine. I actually felt sorry for the (I am sure very few people) who buy Men's Health not for fitness tips, but as masturbatory fodder. They'd be turning from pages of buffed and be muscled Adonises (Adoni?) and be presented with my pudgy body. Admittedly it's a lot less pudgy than it was 6 months ago (when the idea of posing in a Men's magazine would have seemed like an insane impossibility), and there was a marked difference between the before shot pinned to the wall and the after shots that I was seeing on the computer. But this was still a weird day. The weirdest thing being I didn't really feel embarrassed most of the time. Hopefully the industry will spot me and I will be able to make a new career as a male model. It's an important step forwards for the industry to include chunkier men with fatter stomachs.
I had my torso made up by a woman who I felt a bit sorry for. She offered to shave off my chest hair, but I did not take her up on that offer, though she took off my (thankfully quite limited) back hair. I hope they paid her well. I had to do individual shots, which involved a few props, but no rubber chickens or Groucho Marx masks so it wasn't too Liz Lemon (but, you know, I was topless so I don't think dignity was top of the agenda) and then the other comedians involved did a group shot. The photographer wanted the others to lean on me, but Stephen K Amos didn't seem keen for some reason. I told him not to be homophobic. I think he was just scared of my raw sexual magnetism.
It's been an odd little project, but I am glad I've been involved. None of you need to see those photos, so I am not going to tell you when the issue is coming out. It might be the funniest thing I've ever done. But also I have done important work in challenging the media's narrowly defined stereotypes of masculine beauty. That's right.
I leave for the North tomorrow (wending my way up the country) and so had to pack for the next month this afternoon, before driving over to Battersea Arts Centre for my last London preview. The start still feels a little slow and maybe needs a few more gags, but again they were with me by the end. Meanwhile in Hammersmith the Rasputin cast and crew had a good night. Though the show is still five minutes too long, which feels like a lot to lose. But the early indications are that people are laughing at the funny bits and being moved by the more serious bits and the actors are doing a great job. It's annoying that I can't see it until Thursday, but I am looking forward to doing so. Why not come along early in the run? Your support would be greatly appreciated. Although I a hopeful that we might get to put the play on in London at some point this is not guaranteed and it's very unlikely that it will tour. So Edinburgh might be your only chance to see this.
Thanks to Andy McH for the photo of the cast either bowing or hanging their heads in shame.