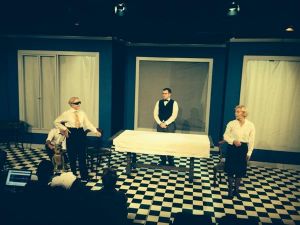 4260/17179
My last personal training session today. I will miss it. In fact I might even keep it going at my own expense. It would be a shame to let my progress slip. After a month long plateau my weight has gone down to under 81kg and I've lost 7cms off my waist measurement in the last month. But there's still 9kg to go to get to my BMI recommended weight and though there are some new dippy bits in my stomach, I can't claim to have abs (I don't really want them). And a few of you still have your (fictional) money riding on how much I will weigh on 31st December. I can't give you mofos who said I'd be 97kg or more the satisfaction. I'd love to reward one of you who said I'd be in the low 70s (though not sure any of you made such a ludicrous bet). Aside from exercising in a more focused way (and eating a lot more vegetables) the last six weeks have not been very different from the rest of my year. I wasn't going to crash diet or over exercise. I want to get into a routine with moving and eating that is sustainable forever. I am enjoying fitting into slightly more flattering clothes, though concerned that if I lose another 9kg I might have to buy yet another wardrobe. Will the money saved on booze and biscuits cover it?
I popped down to the Riverside to see some of the tech run for my play. It was quite a thrill to see the actors on set, with costumes on (they looked amazing) though upsetting and weird not to be able to stick around to see the first run in front of an audience. I had to go and do my own preview at the Battersea Arts Centre. There are some complicated costume changes and lighting and sound cues (plus a puppet dog) so inevitably tonight was going to be a bit rough and ready, but the early indications from Twitter were positive. Some were surprised by how few knob gags there are (there are some, don't worry), others correctly impressed by the actors, no one seemed too bothered by the technical mishaps. But it was odd to be somewhere else as this was going on. I won't get to see it until the first night in Edinburgh next Thursday. I am super proud of the cast and the director and crew for having got it this far this quickly. It's hard to believe that we managed it. Even a month ago I wasn't convinced I would manage my part in all this. There's more hard work to come for everyone else, but we have a show. It's not really in our hands as to how that is received, but early indications are good and I am very glad I took this monumental and unnecessary risk.
My own gig went all right, though I think it divided the audience more than last night. The ones who liked it really liked it, but there were a few non-plussed faces. And as I walked back to the train station directly after coming off stage I was alongside a couple of audience members who hadn't seen me, but were discussing the show and sounding slightly disappointed (they'd liked some of it to be fair). That's a weird situation to find yourself in as a performer and these days I don't usually leave the building with the audience. There's not much you can do. A loud cough will just make them feel embarrassed when they spot you and in fact I quite relish hearing an honest opinion. I hadn't been able to do the big ending that I have in mind tonight, which I think does lift things and tie everything together nicely. I am aware that not everything is as good as it can be just yet, but I think, like the play, that we'll be more or less there in a week's time.
I feel more excited and nervous about the Fringe than I can remember being for a while, but also ready to accept whatever gets thrown at me, whether it be flowers or brickbats. I haven't worked as hard on a Fringe for a long time. It'd be nice if that paid off for me (or even if it didn't pay off, but I didn't lose £50,000). But it might not and I am prepared for that possibility.
I leave London and my cats in two days.I haven't packed yet. There is much to do still. If you're London on Friday night you again have the choice of watching me at the Battersea Arts Centre or I Killed Rasputin at the Riverside, Hammersmith. As I know, you can't do both.
This week's Metro column (familiar to those who've see We're All Going To Die!) is about destiny and density.
Don't Make Me Laugh, the fun new radio show I recorded recently, hosted by David Baddiel is now available to listen to with your ears.

Here's an interview I did about Edinburgh.