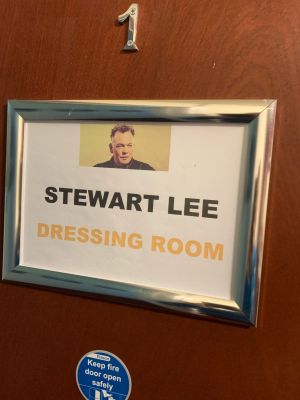 6175/19105
OK, maybe I wasn't being such a wuss after all. Catie and me woke up feeling pretty unwell and in hindsight all the weekend tiredness might have been part of that. I was nauseous and every fart was a pant-based Russian roulette and I just wanted to sleep.
There wasn't really time of course as I had to prepare for RHLSTP with Grayson Perry and Konnie Huq. I didn't feel so ill that I had to cancel and the show must go on unless things are so bad that you can't move. Also I'd been really looking forward to meeting Grayson for the first time and had already had one podcast with him cancelled and didn't want to miss another one.
After a morning of research, feeling somewhat overwhelmed by the scale of Perry's career and my own lack of artistic knowledge, I risked eating a minimal lunch, thought I was going to be sick and went and lay down for 20 minutes.
I was more worried about the driving than the show, and more worried about falling asleep at the wheel than shitting myself, not that that wasn't a bit of a worry. It was a shame that I wasn't on top form for an interview that I felt I would need to have my wits about me, but hoped that Doctor Theatre would do his work.
I actually felt a bit better by the time I arrived in London. I'd managed to finish listening to the audiobook of Konnie's "Cookie and the Most Annoying Boy in the World" which is a very enjoyable kids book with some surprising twists and turns, not least the fact that Cookie doesn't get any questions right when she finally ends up on Brainbusters - though it turned out that this was also the case when Konnie was on Blockbusters and that the questions in the book are the same ones that she got asked on the show as a teenager. (Spoilers)
My dressing room door at the Leicester Square Theatre was emblazoned with the name and photo of Stewart Lee (who is in this room every day but Monday). Bit offensive.
A bottle of Jack Daniels was on the counter, which I presume is his. I was on Lemsip in a vague hope that that might help me focus. I am not showbiz enough to deserve my name on the door.
Grayson turned up early and was as delightful and interesting as I had hoped in the dressing room. We weren't allowed to film this one for contractual reasons, but on the plus side that means we will be able to put it out much quicker. It was a really good chat about art and comedy, masculinity and self-playing snooker and stone-clearing as art between a past and a future Turner Prize winner.
Konnie was much ruder than she was on Blue Peter and didn't seem to remember much about our Boat Race rivalry (or even that she'd done the programme), but it was a fun end to the London run.
And I managed the drive home without dying, as weary as I was by then. Hence me writing this.
You'll know when I'm dead because I won't be writing this any more.